Giancarlo Perlas
March 8, 2019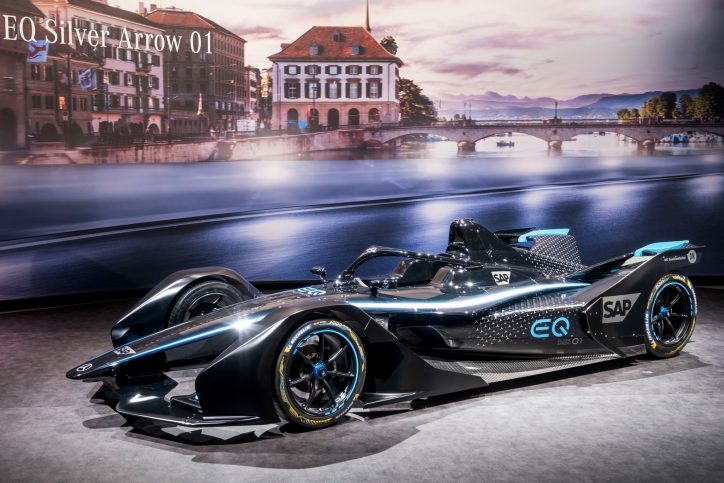 After much hype, the Formula E race car of Mercedes-Benz has been unveiled at the 2019 Geneva Motor Show. The electric race car is called the Mercedes-Benz EQ Silver Arrow 01.
The EQ Silver Arrow 01 appeared in a special livery during its launch, which features a jet black paint with the Mercedes logo in front and EQ letterings. However, Mercedes reminds us that the race car only carries a teaser livery, and its final design will be shown before the season six opener of Formula E.
The electric Silver Arrow is equipped with a 52 kWh battery pack. The unit produces 340 hp based on the practice and qualifying but the figures went down to 272 in Race mode while the Attack and Fanboost modes yielded 306 to 340 hp, respectively. The numbers allow the vehicle to accelerate from 0-100 km/h in mere 2.8 seconds. On the other hand, its top speed is rated at 280 km/h.
With the entry of the EQ Silver Arrow 01, they will become the first automaker to race in both the Formula 1 and Formula E. Therefore, the question right now is whether Mercedes will repeat the success it is enjoying in F1 to Formula E. But then again, they will be competing against the more experienced teams in the sport so nothing is set in stone.
"The countdown to our entry into Formula E has now officially begun. Our team has obviously been working behind the scenes on this project for quite a while now, but when you see the car in our teaser livery for the first time, you know that the project has entered a serious phase," said Toto Wolff, Mercedes-Benz Motorsport boss, in an interview.