Giancarlo Perlas
October 20, 2018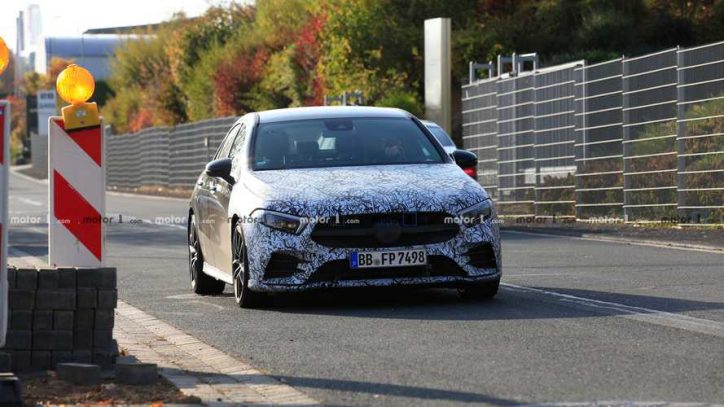 The first entry of the Mercedes-Benz A-Class Sedan to the AMG brand was spotted while undergoing testing. The features of the car indicate that it is the Mercedes-AMG A35 Sedan model.
The spy shots of the AMG A35 Sedan from Motor1, only show the vehicle partially covered in camouflage. The roof, sides and boot lid of the car are all exposed. It seems there's no point in hiding them anyway since we already saw the AMG A35 hatchback at the Paris Auto Show last month.
We are expecting the AMG A35 Sedan to carry the same sporty upgrades on the bumper, air intakes, side skirts, rear diffuser, dual exhaust pipes and wheels like the ones found on the AMG A35 hatchback. The same can be said about the interior of the sedan. Therefore, look forward to Artico leather/Dinamica microfiber seat covers with red stitching and a pair of 10.25-inch screens with MBUX system inside the auto.
The two AMG A-Class versions will just mirror each other, except for each car's respective rear portion. That should not come as a surprise, after all, the two models are so closely related.
Similar to the AMG A35 hatchback, beneath the hood of the AMG A35 Sedan is the same 2.0-liter turbocharged inline-four engine. The unit is good for 302 hp and 295 lb-ft of torque. Likewise, a seven-speed dual-clutch transmission will be mated to the vehicle's all-wheel-drive system. The setup is estimated to launch the car from 0 to 62 mph in not less than 4.7 seconds.
After its release, the AMG A35 Sedan will be followed by the more potent AMG A45 Sedan. Inside sources said the unit will be fitted with an eight-speed dual-clutch transmission, and its output will be more than 400 hp.
Mercedes-AMG A35 Sedan Spy Shots
Check out the new spy photos of the upcoming Mercedes-AMG A35 in the gallery below: