Giancarlo Perlas
May 16, 2018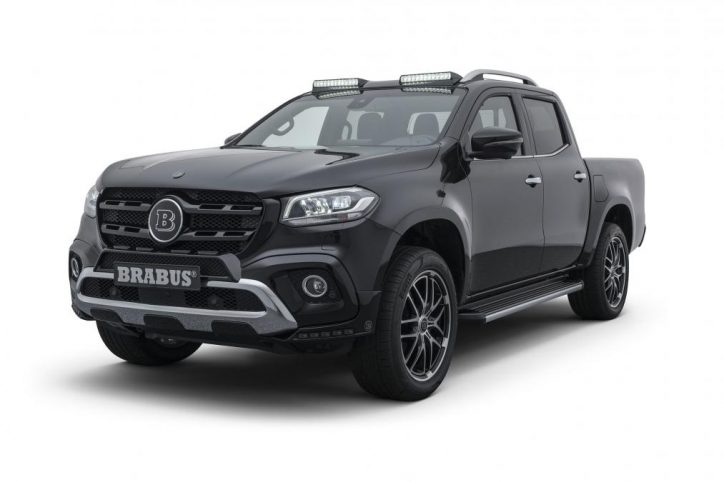 Famous Mercedes tuner Brabus just released its new tuning package for the X-Class pickup. It gives the Mercedes-Benz X-Class a power boost as well as a few enhancements in its visuals.
Styling Overhaul
The Brabus package of the X-Class includes a more refined fascia, added air intakes, roof-mounted lights, quadruple exhaust pipes, and 20-inch wheels. Going inside, the upholstery of the auto gets various trims in leather and Alcantara. It comes with aluminum pedals, new door sill design and Brabus badges, too.
Previously, we saw Pickup Design's take on the Mercedes X-Class. The EXY package offered by Carlex Design's pickup truck division provides the vehicle two versions of wild external and internal cosmetic overhauls.
Compared to the new Brabus package for the X-Class, Carlex Design's product gives owners of the auto a more extreme way of customizing the design of their rides. However, the one from Brabus strikes a balance in the upgrades by also giving customers an option to raise the power of the vehicle.
Power Boost
The new X-Class package includes the Brabus D4 PowerXtra performance upgrade. This tunes the 2.3-liter turbo inline-four diesel engine of the X220d to deliver a total of 211 hp and 510 Nm of torque. That's 21 hp and 60 Nm more than the stock configuration of the Mercedes pickup.
According to the Mercedes tuner, the power boost allows the X-Class to accelerate from 0-100 km/h in just 11.5 seconds. They revealed that another tuning kit is being prepared for the more powerful X350d variant of the mid-size pickup.
Photos