Giancarlo Perlas
November 28, 2017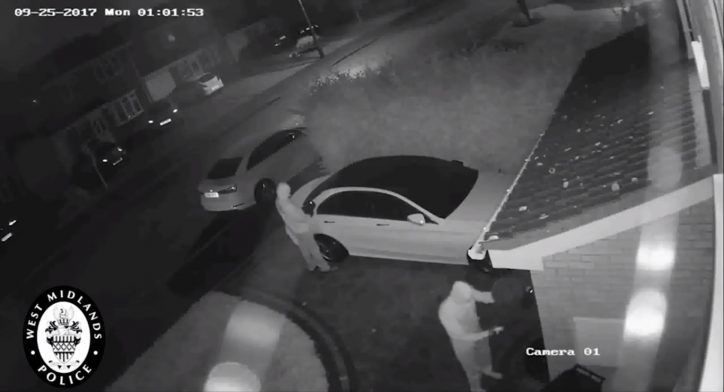 Mercedes-Benz is known for its top-of-the-line technology and tons of innovations. However, a couple of thieves caught in a CCTV showed that the brand's cars are not 100% foolproof.
In a footage released by the West Midlands Police in Birmingham, UK, a Mercedes could be seen parked in the victim's driveway. Then another car parked behind it. Two hooded men carrying identical devices proceeded to the parked Mercedes.
One of the men stayed at the door of the parked Mercedes and the other went near the house. In a few seconds, they were able to hack into the door of the Mercedes. Just like that, one of them entered into the Mercedes while the other went back into the getaway car.
The video you are about to see below shows how a Mercedes was stolen in merely a minute:
According to a report, the men exploited the keyless entry system of the Mercedes using a relay hacking method. What is more alarming than the ingenuity displayed by the crooks though is that the hacking tech used in the Mercedes can be easily acquired online through Amazon and eBay.
So far, there are no news yet about the status of the perpetrators or the investigation. The police and experts advised car owners to exercise these necessary precautions:
Use a reliable steering wheel lock.
Speak to your car dealer to ensure that you have all the latest updates in your car's software.
Utilize a key fob that could block signals being emitted by the car key when not in use.
ADAC, a German association, displayed how they could unlock and start the engine of some cars using radio transmitters early this year. The result of the experiment indicated that 110 cars from 27 different manufacturers were at risk.
Automakers were quick to comment about the test results of ADAC. A Mercedes spokesperson said in an interview, "All Mercedes-Benz vehicles have extensive security and anti-theft protection systems. Data security, data protection and anti-theft protection are important elements in our research and development activities and the development of protection and safety mechanisms is continued over the entire life cycle of a vehicle. When enhancing our protective mechanisms we take into account the latest knowledge about criminal methods and about attacks on security systems. We also offer our customers the option of deactivating the radio signal with two clicks of the key in order to prevent abuse."