Ryan Joseph Ramos
November 26, 2017
Valtteri Bottas had an anticlimactic win in an anticlimactic race, cruising comfortably from pole position to take the victory at the Abu Dhabi Grand Prix to close out the 2017 F1 season.
The Finn had no problems closing this one out. Bottas finished 3.899 seconds ahead of teammate and champion Lewis Hamilton, who finished in second place. It was only the fourth 1-2 finish for Mercedes this season. t was also a much-needed victory for Bottas. He went through a relatively bad second half of the season that saw him post two retirements.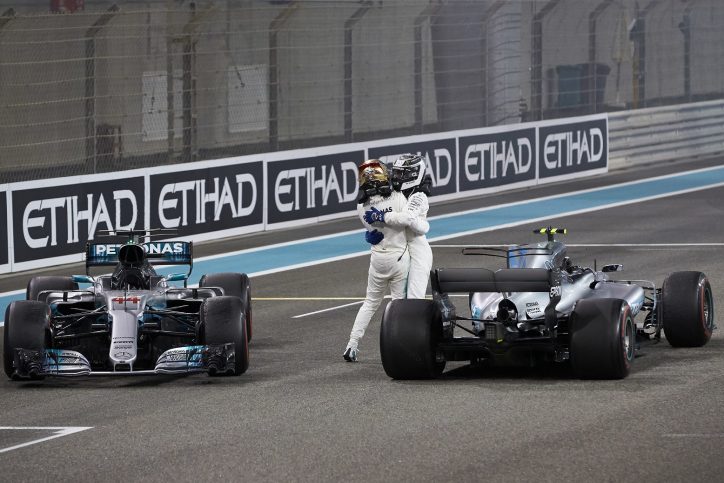 He was renewed by the team for 2018, so it must be a good feeling to give the team some vindication with a win at the very end of the 2017 F1 season. Bottas raced perfectly, with the pole, the race win, and also getting fastest lap.
The lack of overtaking at the Yas Marina circuit didn't help Hamilton challenge Bottas at all. The world champion said his engineers told him he needed to be quicker by 1.4 seconds just to even have a hope of overtaking. Still, Hamilton felt that Abu Dhabi needed to remain the season finale because it was one of the best places in terms of atmosphere and the hospitality.
"I could really control the race," said Bottas. "Everyone knows here it's not easy to overtake."
Of course, on a no-bearing race (for Mercedes and its drivers) like this, you get suggestions that the team would simply allow Bottas to win. That was refuted by both Niki Lauda and Toto Wolff.
"Lewis was pushing very hard," said Wolff, the team's executive director. "He was asking for more engine power, we gave it to both of them and they raced to the end."
It wasn't quite without bearing for other teams, though. Renault ended up overtaking Toro Rosso, a team for which it supplies engines, for sixth place in the team standings. Toro Rosso will be moving to Honda engines next season.
Meanwhile, Daniel Ricciardo bore a costly retirement in the race, allowing Kimi Raikkonen to snag fourth place in the drivers' standings. Raikkonen finished fourth in Abu Dhabi, just behind the other Ferrari driven by Sebastian Vettel.
All in all, it was an incredible 2017 F1 season for Mercedes. Despite losing champion Nico Rosberg, Bottas proved capable as a replacement. Hamilton scored points in every race in a title-winning season, joining Juan Manuel Fangio and Michael Schumacher as the only drivers to have achieved such a feat.
Oh yeah, in case you missed it, F1 unveiled a new logo to be used starting next season. Spoiler alert: It's kinda 'meh'.
After an amazing season – a new #F1 era awaits

Our greatest races are ahead of us
#Unleash2018 pic.twitter.com/1g0KSjeVhj

— Formula 1 (@F1) November 26, 2017