Giancarlo Perlas
June 25, 2017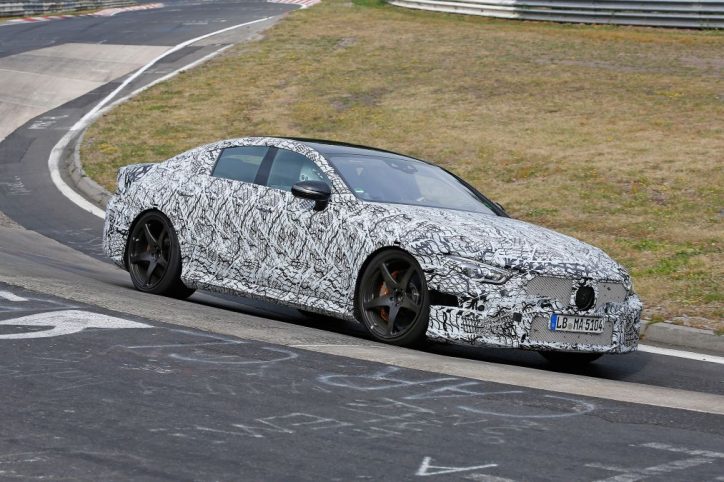 Spy shots of the production version of the Mercedes-AMG GT saloon have been making their rounds online. The prototype appears in a fully-camouflaged body, but the contours of the car reveal some of the things we can look forward to about it.
Here are the top three expectations we have in the four-door Mercedes-AMG GT based on its latest spy photos and several reliable sources:
1. Design
It seems the spied prototype retained many styling elements found in its concept version. Reports say that the production version of the Mercedes-AMG GT saloon will ride on a modified MRA platform and it will certainly adopt the updated design of its earlier two-door sibling, including the new Panamericana grille in its nose.
One of the noticeable changes in the prototype compared to the two-door AMG GT is its longer wheelbase, which will allow the auto to accommodate more passengers and offer them a decent amount of legroom. The concept AMG GT saloon also features a camera that replaces the side mirrors but the prototype here retains its mirror caps on the sides.
Furthermore, the AMG GT saloon concept showcased smoother surfaces free of creases. The feature is in line with the new design language of Mercedes. However, there appears bulges on the exterior side panels of the spied car that suggests it might keep the body lines found in the two-door AMG GT.
2. Power Unit
The Mercedes-AMG GT saloon will be powered by a 4.0-liter biturbo V8 engine. The unit will be paired with electric motors to boost its output to 800 bhp. The hybrid build of the vehicle will give the driver an option to run on full-electric power but expect its range to be short because the primary use of each electric motor is to increase the performance of the car.
3. Debut
The production model of the Mercedes-AMG GT saloon will most probably come out at the upcoming Frankfurt Motor Show.