Giancarlo Perlas
February 6, 2017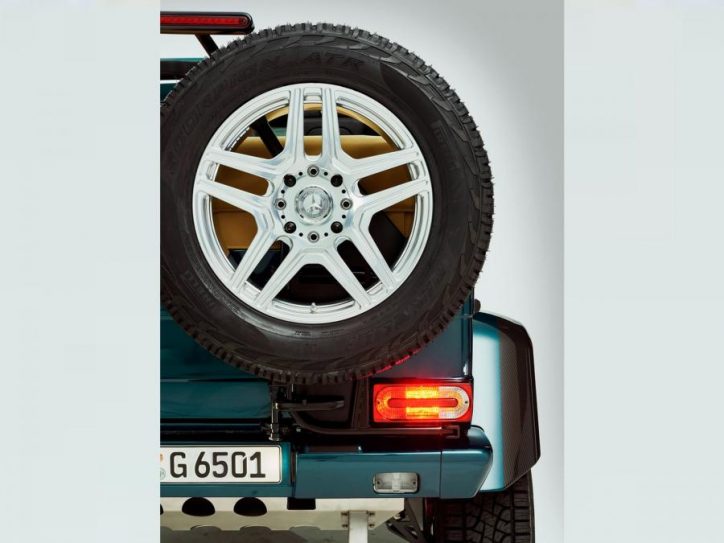 Mercedes-Benz recently teased a new vehicle in a series of pictures. The auto is speculated to be the Mercedes-AMG G65 4×4² Cabriolet.
According to a report, the Mercedes-AMG G65 4×4² Cabriolet will probably debut next month at the Geneva Motor Show. So, what gives the vehicle away as the AMG convertible version of the imposing Mercedes-Benz G500 4×4²?
The spare wheel mounted in the rear indicates that the vehicle is huge and is built for off-roading. The alloy wheel appears to measure 22 inches and the tire wrapping it is for rough roads. Going to the side, it is noticeable that the subject in the photos is carrying wide fenders made with carbon fiber edges. The mentioned elements are clues that we are looking at an AMG model.
Then another thing that hints of its AMG make is the plate, which reads G6501. The first three could mean its model while the next two might suggest the designated number of Mercedes to the prototype.
Behind the spare wheel looks like a tan fabric. On the other hand, above the spare is the absence of hard roofing. The said factors point out to a convertible model. The tan fabric is likely the folded soft roofing of the top down car.
Going back to the model of the auto, if it is indeed the Mercedes-AMG G65 4×4² Cabriolet, expect it to have a 6.0-liter biturbo V12 engine with 621 bhp. The standard Mercedes-Benz G65 is capable of accelerating from zero to 60 km/h in just 5.3 seconds. Therefore expect the AMG G65 4×4² Cabriolet to be faster or at least identical to the figure.