Giancarlo Perlas
February 5, 2017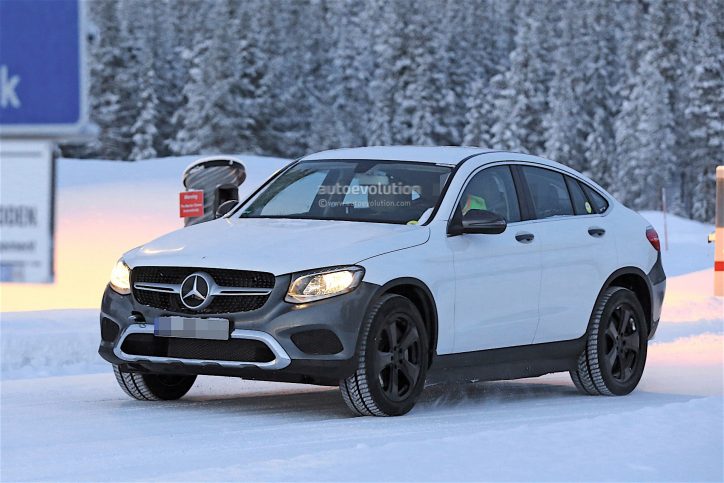 Spy shots of a Mercedes-Benz Electric SUV was spotted recently as it underwent testing at a winter environment in northern Scandinavia. The spied vehicle is reportedly based on the Mercedes-Benz Concept EQ.
Here are the top three things we can expect from the SUV based on a source:
1. Based on the EVA Platform
The Mercedes-Benz Electric SUV will be based on the new EVA platform of its maker. It should be noted though that the auto in the images here appears with the exterior of the GLC Coupe. However, the report claimed that the shell of the vehicle is merely for the test mule version as Mercedes will be incorporating its new design language in the production variant of the Concept EQ. It also looks like the GLC body of the Concept EQ-based electric SUV has been altered a bit to house its new powertrain and to fit the EVA platform.
2. Possible Launching in 2019
The production models of the Concept EQ will possibly come out in 2019. Two electric SUVs are rumored to emerge from the concept vehicle. Both might be unveiled together with an electric sedan and electric hatchback utilizing the EVA platform of Mercedes.
3. Size Will Probably Be Similar to the GLC Coupe
The test mule gives us an idea of the size of the upcoming Mercedes electric SUV. On the second thought, the prototype bearing the GLC Coupe body might only be used to assess some of the electric SUV's important features.
Mercedes-Benz Electric SUV Test Mule Photos
Check out the spy photos of the upcoming Mercedes-Benz Electric SUV in the gallery below: