Giancarlo Perlas
February 18, 2017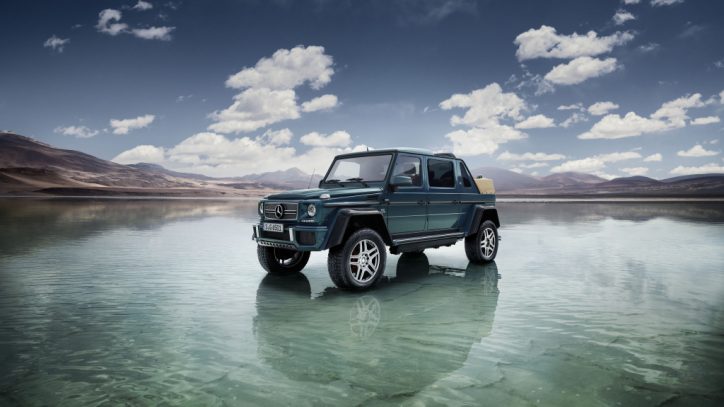 After teasing about it and having some images leaked to the public, Mercedes-Benz finally revealed its new addition to the G-Class range. The new model comes as a Mercedes-Maybach G 650 Landaulet.
Here are the top 5 features of the auto:
1. Ultra-Luxurious
Since we are looking at a Maybach model here, expect it to be a notch up than the regular Mercedes-Benz G-Class. The G 650 Landaulet combines the off-road capabilities of the G-Class with the high-end elements offered by the Maybach sub-brand.
The cabin of the vehicle can house up to four passengers. The interior is spacious enough to allow the individual seats to be fully-reclined. Add to that the comfort features provided by its high-end leather surfaces, massage functions and heating system. It should be noted that the rear seats of the G 650 Landaulet comes from the S-Class.
What's so special about the landaulet is that it lets its rear passengers enjoy open air ride with a nice clear view of the sky. That is something that the regular G-Class does not have.
2. Size
The Mercedes-Maybach G 650 Landaulet is 5,345 millimeters in length, 3,428 millimeters in wheelbase and 2,235 millimeters in height. It has approximately half a meter ground clearance.
3. Exterior Design
The Mercedes-Maybach G 650 Landaulet follows the design of the Mercedes-AMG G 63 6×6 and Mercedes-Benz G 500 4×42 . From the front up to the C-Pillar, the Maybach version of the G-Class carries over the looks of the said models, but the rear comes with a top down roofing.
4. Engine
The Mercedes-Maybach G 650 Landaulet is equipped with a V12 biturbo engine capable of producing up to 630 hp and 1,000 Nm of torque. The combined fuel consumption of the vehicle is 17.0 l/100 km and its combined CO2 emissions is 397 g/km.
5. Limited Edition
Only 99 units of the G-Class landaulet will be made. The world premiere of the auto will take place at the Geneva Motor Show in March 2017.