Giancarlo Perlas
February 6, 2017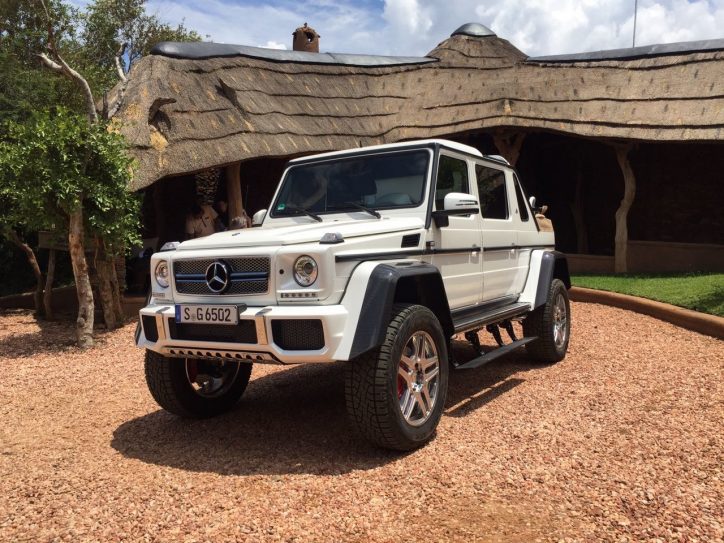 Earlier, we ran an article about a possible teaser for the Mercedes-AMG G 65 4×4² Cabriolet. However, later reports suggest that it might be the Mercedes-Maybach G 650 Landaulet.
Recently, Carscoops leaked images of a new version of the G-Class. The vehicle still carries the platform used in the Mercedes-Benz G 500 4×4², which showcases a lifted chassis, extended wheelbase, set of wheels estimated to measure 22-inches, and wider fenders. The rear of the SUV is open though and there appears to be a fabric that serves as its retractable soft top.
In the previous teaser pictures, it was also noticeable that the plate of the subject read "G6501." That would further strengthen the possibility that the auto is indeed a G 650 not an AMG G 65. The last digit only probably reflected the designated item for the prototype. In the case of the vehicle in the photos here, the last digit is "2", so the one in the teaser is another unit.
In the C-pillar of the vehicle separating its rear passenger seats and open cab, the Maybach badge can be seen. Again, that supports the identity of the G-Class as a Mercedes-Maybach G 650 Landaulet model, not an AMG variant.
It is likely that the engine of the auto in the images here is a biturbo V12 engine. The unit has an output of approximately 630 hp.
The source said that the Mercedes-Maybach G 650 Landaulet will be launched during the Geneva Motor Show in March. It claimed that it will only have a limited production run. Only 99 examples of the vehicle will only be made for customers.
Check out the leaked photos of the Mercedes-Maybach G 650 Landaulet in the gallery below: