Giancarlo Perlas
February 7, 2017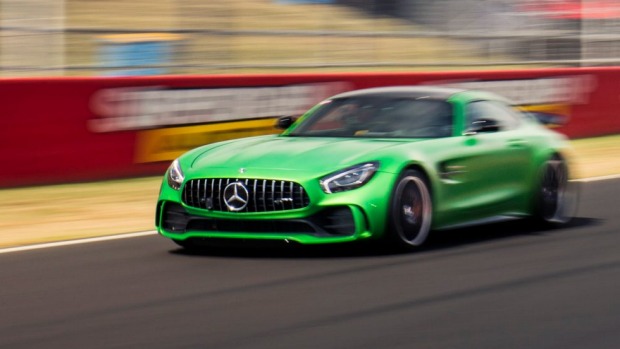 The 2017 Mercedes-AMG GT R just set another record. During the weekend, the auto became the fastest production car to ever finish a lap at the Mount Panorama circuit. The feat was achieved even though the vehicle failed to win the 12-hour race in Bathurst during the same period.
Five-time German touring car champion Bernd Schneider drove the AMG GT R in an attempt to get the quickest record on track. Among the other cars in the event, the AMG car accomplished its goal in just 2 minutes and 16.5 seconds.
It should be noted that Scheider was also responsible in setting the previous record using an AMG GT. In 2015, he finished the lap in around 12 seconds.
The display shown by the AMG GT R is a good way to introduce it in the Australian market. According to a report, the car is due to arrive in Australia in the middle of the year. The price is estimated to be around $349,000, excluding delivery costs.
Within the car sits AMG's handcrafted 4.0-liter biturbo V8 engine. The unit is capable of producing 577 hp and 516 lb-ft of torque. The auto is fitted with the 9-mode AMG TRACTION CONTROL with Active rear-axle steering. Compared to the AMG GT, the AMG GT R has improved aerodynamics, bigger wheels, racing tires and reconfigured suspension.
The higher power, better aero setup plus the reduced weight of the AMG GT R compared to the AMG GT enables it to accelerate from zero to 60 mph in just 3.5 seconds and reach the top speed of 198 mph.
Scheider was all-praise with the car he drove. He mentioned too that the car feels like home at Mount Panorama.