Giancarlo Perlas
December 23, 2016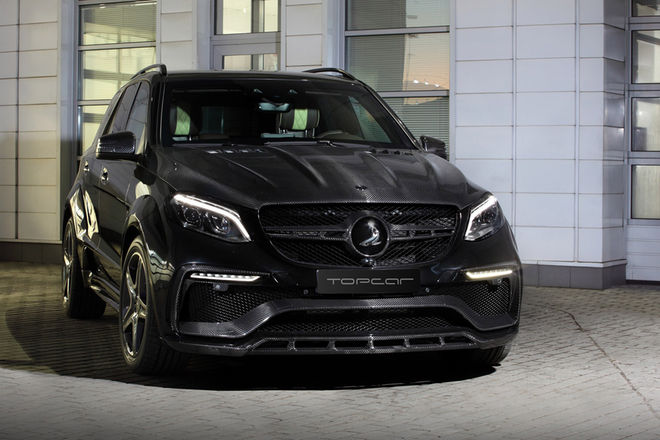 Famous Russian tuner Topcar just revealed another masterpiece project based on the Mercedes-Benz GLE range. The company recently unveiled its work on the Mercedes-Benz GLE Guard.
Similar to what its specialists did to the Mercedes-Benz GLE Coupe and the Mercedes-Benz GLE 63 AMG, Topcar gave the Mercedes-Benz GLE Guard its own Inferno package.
Topcar told Motortrend that the Mercedes-Benz GLE Guard Inferno was made due to the request of a wealthy client. Here are the top 5 features of the modified armored SUV:
1. Exterior Styling
The cosmetic enhancements made to the GLE Guard Inferno are similar to the ones found in the GLE 63 AMG Inferno, as they share the same platform after all. The upgrades include the new front grille and mesh design, air intakes, hood made from carbon fiber, bumpers, side skirts, rear diffuser, wheel arches, rear spoiler, LED lights, wheels and Topcar logos.
2. Armoring
Topcar simply utilized the level of armoring already available in the Mercedes-Benz Guard program. The specialist just integrated its carbon fiber kit from its Inferno package to boost the appeal of the auto as well as reduce its weight.
3. Interior Design
Inside the GLE Guard is a combination of luxury wood trim and high-end Nappa leather. For clients with deeper pockets or fat bank accounts, Topcar can further pimp up the interior of the armored vehicle with crocodile leather, expensive wood, or even 24k gold trims.
4. Engine
No official announcements were made about the engine trim of the Mercedes-Benz GLE Guard Inferno. Looking back at the details featured in our previous report though, the power boost for the GLE given by the package begins at approximately 87 hp and 123 Nm of torque for the GLE 450 model. The GLE 43 AMG should take an extra 125 hp and 149 Nm of torque. The GLE 63 S AMG is estimated to have an additional 131 hp and 159 Nm torque in its output.
5. Pricing
There are also no details available yet about the starting price of the Mercedes-Benz GLE Guard Inferno. Interested buyers should contact Topcar for inquiries.
Photos
Below are some photos of the Mercedes-Benz GLE Guard with the Inferno package of Topcar: