Muamer Hodzic
July 25, 2016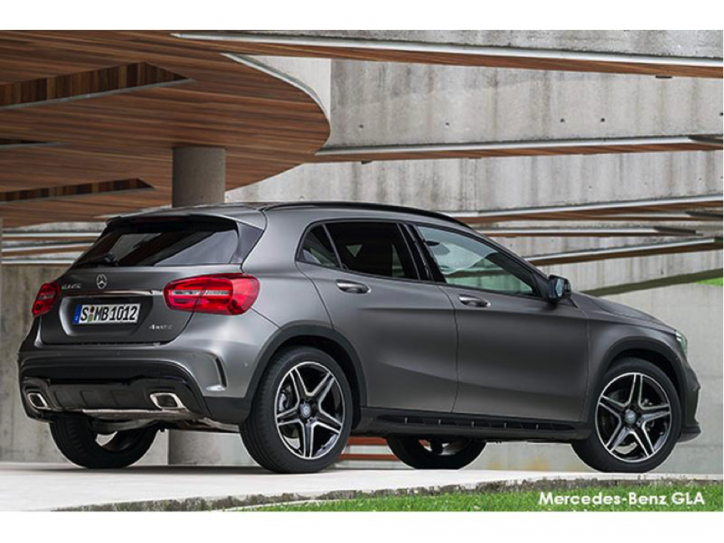 With an already wide spread of SUVs to see at your local dealer, one could be forgiven for thinking Mercedes-Benz was late in arriving at the compact cross-over SUV party.
As it stands, Mercedes-Benz offers 3 large SUV options – the big ML (aka M-Class), the extra-big GL, and the tough square G-Class, known around the world as Geländewagen.
Therefore, the company is not actually late with its product, as it has been selling a compact SUV named GLK for quite a few years already, which competes with BMW X3 and Audi Q5 types. Inexplicably, GLK is built only in left-hand drive, so not available in the countries SA or UK, where it would surely be a strong seller – a company spokesperson (a German one, at that) admitted that they made a mistake!
Now Mercedes-Benz is righting this by launching (off the internationally successful new A-Class hatch design idea) a compact cross-over hatch/SUV called GLA.
The GLA was created to be multi-talented, wandering between these automotive worlds: being as easy to drive as a hatch about-town, lively on country roads, easy to cruise on highways, and allowing a visit to some un-tarred roads/areas thanks to its partial off-road excursion capability, too. The lower-end GLA200 and GLA200CDI models are front-wheel drive, while the top-end GLA220CDI, GLA250 and GLA45 AMG are 4Matic 4-wheel-drive. The CDI-designated models are super-frugal & clean diesels, while the 200 offers entry-level pricing with a petrol engine. The GLA250 shares the GTI-rivalling 155kW/350Nm 2-litre turbo engine power of brother A250 Sport, though not the red sporty bits, so makes a subtle surprise performance cross-over. The high-power GLA45 AMG 4Matic uses the A45/CLA45's 265kW/450Nm 2.0 turbo (still the highest-output mass-production engine of its size).
A simulated under-guard at the front, and contrasting dark-grey cladding all-round emphasise the more rugged characteristics of the GLA. This cladding extends around the bottom edge of the vehicle like a frame and provides protection against stone impact, and a set of roof rails are fitted when optioning from a choice of packages, and standard on 4Matic models. Price-wise the premium on GLA is roughly 50 000 to 100 000 Rand over comparable A-Class models.
Mercedes-Benz GLA is as easy to travel in as the new A-Class hatch, with a bit of added height. However, those expecting the GLA to be as tall as other modern compact cross-over SUVs will be disappointed – it is barely higher than most hatchbacks, and actually a few centimetres lower than either Audi's Q3 or BMW's X1 rivals. GLA beats them again with its 6-year PremiumDrive maintenance plan.
The interior is instantly recognised by its high-quality materials, isolated feel, circular air vents, and the large free-standing display stuck on top of the dashboard – this display is not well-integrated, so looks like a tablet computer was simply fitted on a stand… after-market. A variety of interior upholstery and trim options caters for many tastes.
As primary concern for Mercedes-Benz, safety ranks highly: the GLA range is fitted as standard with Attention Assist drowsiness detection and rest reminder, and radar-based Collision Prevention Assist with Adaptive Brake Assist (which now helps to avoid collisions at a speed as low as 7 km/h). This feature combines with the optional Distronic adaptive cruise control to become Collision Prevention Assist Plus – if a danger is sensed and the driver does not respond, the car can brake itself to avoid or reduce the severity of an impact, and can prevent rear-end collisions of up to 20 km/h (avoiding the stop-start traffic bumper bashes too). Lane and blind spot helpers, parking assistant and a variety of high-tech options are available.
As a compact cross-over the GLA, in any engine choice, is a great all-rounder… though would have been gladder if GLA was a bit higher for better all-round visibility, stance, clearance and appeal.