Giancarlo Perlas
July 25, 2016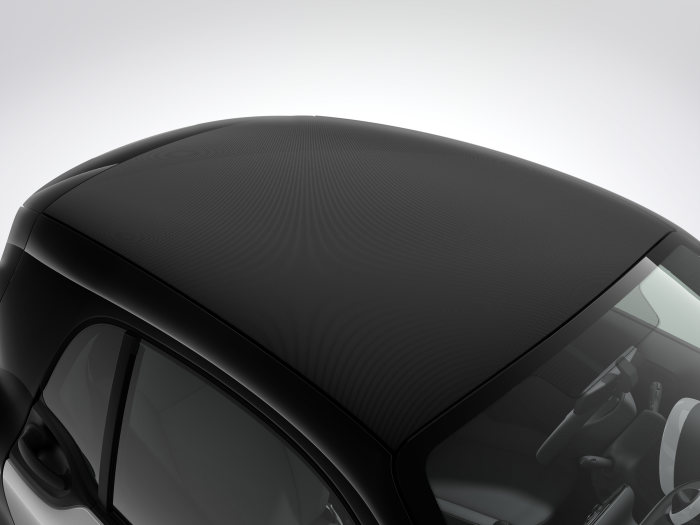 Starting September this year, the smart fortwo coupe will be offered with a solid roof frame with black fabric covering as a standard fit. The special roofing will be made available with the 2016 models of the compact coupe, according to Daimler.
For the Brabus and Brabus Xclusive lineups of the car, the special roof comes as a no-cost option if the buyer chooses it over the standard panoramic roof with sun protection.
The company also announced several updates to look forward to for the current version of the fortwo coupe and its cabriolet models. Among them are the following:
LED & Sensor Package worth €550 in Germany (including VAT) that will provide the car front fog lamps equipped with cornering light. This functions by providing better illumination in the direction of the bend when cornering to aid the driver visually and increase his safety.
A fabric soft top was announced for the fortwo cabrio as well. Aside from the three original offerings of the company for the soft top of the convertible, two new covers have been introduced, which comes in brown and light beige. These are available for the Brabus package for €996.
The smart fortwo models will be offered with i-Size child seat fastener as a standard equipment. The seat gives maximum protection to a child passenger by latching itself in the two anchorage points of the seat cushions and the backrest. For the forfour, the i-Seat is positioned at the rear passenger seat.
The cadmium red metallic radiator trim is now offered for the smart forfour. It only costs €60 for the passion and premium range but it is available as a no-cost option for the Brabus and Brabus Xclusive lines.
The Sports package of the models will be renamed as the Sleek Style package in order for it to have a clear distinction with the Brabus Sports package. The same elements like the black 16-inch alloy wheels in 8-Y-spoke design, lowered suspension, chrome-tipped exhausts, three-spoke steering wheel, and stainless-finished sports pedals are carried in the Sleek Style package.