Giancarlo Perlas
December 2, 2014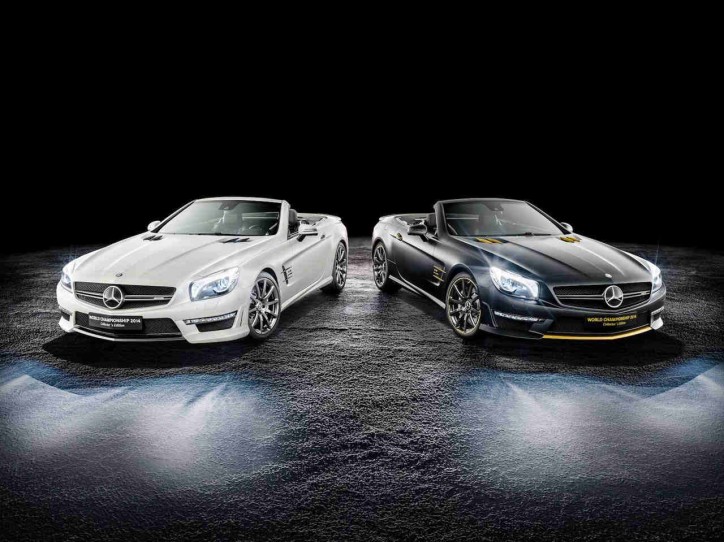 The Formula One team of Mercedes-AMG Petronas truly stood out in the sporting community in the season that just ended after handing rivals a crushing defeat and dominating majority of the races all year. The team not only became a Constructors' Champion but its driver Lewis Hamilton also won the World Championship. It should be noted that Nico Rosberg trailed just behind his partner in the overall drivers' rankings and would have put on quite a show in the last race if it weren't for mechanical issues.
To celebrate another major milestone in the German automaker's history, it launched a limited edition Mercedes SL63 AMG. The new car is called the Mercedes SL63 AMG World Championship 2014 Collector's Edition.
The Mercedes SL63 AMG World Championship Edition will be available in two versions and only 19 units of each car will be produced, making this variant of the roadster extremely rare. The 19 represent the number of F1 grand prix events held this year.
The version of the convertible with black finish and gold accents was based on Hamilton's design. It has a more aggressive styling with detachable sports mirrors and handles, plus its mat featured a map of the Silverstone circuit. On the other hand, the classy white variant was designed by Rosberg. It has a smoother appeal and a map of Hockenheim on its mat.
Each car packs a 5.5-liter biturbo V8 engine with 577 hp and 644 lb-ft of torque. Its zero to 60 mph sprint can be achieved in only 4.1 seconds.
According to Digital Trends, the price of the Mercedes SL63 AMG World Championship Edition would be $399,303. Each car comes with a free helmet, which was once worn by the driver who designed it.
There's a catch though for those who would like to own the car right away. The source claimed the convertibles will be sold as a pair at first for a price of $785,247. However, for those who would like to own only one, they would have to wait for the individual units later.