Peter Parcon
June 14, 2014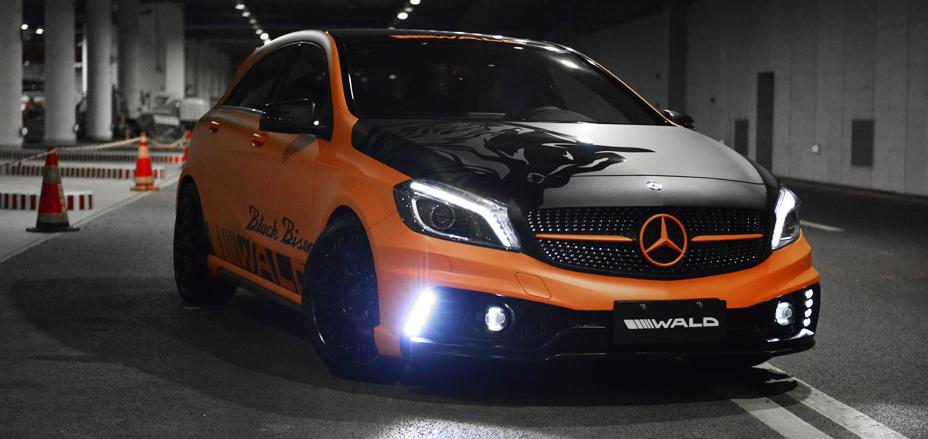 The 2014 Mercedes-Benz A-Class became the subject of enhancements by Wald International, according to a recent inautonews.com report. The enhancement package for the luxury vehicle was dubbed as the Black Bison by the tuning company based in Japan.
The new enhancement package from Wald International will allow owners of the latest model of the A-Class to modify the appearance of their luxury vehicle. This brand-new enhancement package has the signature of the tuning specialist, which revealed that a number of features were added to the luxury vehicle. The enhancements provided by the Black Bison body kit of Wald International will give the 2014 Mercedes-Benz A-Class the prominence it deserves among similar luxury vehicles in the market.
A brand-new bumper is added into the premium hatchback along with daytime running LED lights and a new spoiler in front. In addition, to these front-end modifications, the A-Class also received a brand new bumper featuring a built-in diffuser as well as brand new side skirts.
The complete package for the luxury vehicle can be purchased at a price tag of 399,000 Yen or around 2,895 Euros, according to Wald International. However, owners of the A-Class can also choose to purchase the individual components of the package.
In addition to the tuning package offered by the Japanese tuning company, owners of the luxury hatchback also have the option to add a separate tailgate-mounted spoiler on the vehicle. This tailgate-mounted spoiler for the luxury vehicle has a price tag of 73,440 Yen or around 532 Euros.
Unfortunately, the Black Bison body kit is only limited to the aesthetic enhancements on the Mercedes-Benz A-Class since the Japan-based tuning specialist did not offer to increase the power or torque of the vehicle.