Peter Parcon
May 28, 2014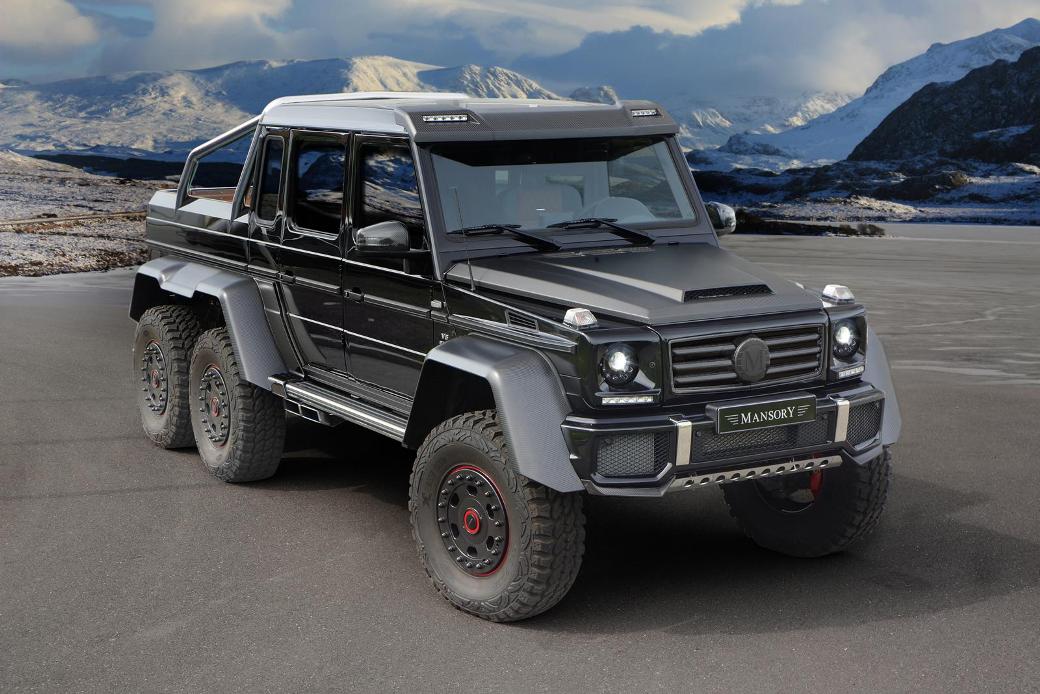 It appears that the Mercedes-Benz G63 AMG 6X6 is gaining popularity among tuning companies, and this time, Mansory released a complete customization program for the unique vehicle from Mercedes-Benz, according to a report from worldcarfans.com.
The tuning company, acknowledged for its extraordinary projects, has produced an attention-grabbing styling kit for the six-wheel monster of a vehicle. However, the customization that the company released for the G63 AMG 6×6 appears restrained compared to its kit for the Lamborghini Aventador and Rolls-Royce Wraith.
Although it may have customized the headlights and upgraded the grille and hood, its outer appearance does not appear to be uniquely over-the-top compared to the standard model of the SUV. However, the power of the twin-turbocharged 5.5-liter V8 engine of the six-wheeled SUV was increased to 828 HP from the standard 536 HP. The torque of the vehicle was also boosted from 560 lb-ft to 737 lb-ft.
The engine was given genuine racing components by Mansory. Numerous connecting rods, bearings, pistons, and cylinder heads were added by the tuning company. It also installed a brand-new-crankshaft as well as a new exhaust system. These additions resulted to the increase in the power and torque of the Mercedes-Benz G63 AMG 6X6.
Aside from the modifications on the engine and outer appearance of the Mercedes-Benz G63 AMG 6X6, the company also provided a number of carbon elements on the interior of the vehicle. The vehicle also received numerous Alcantara, wood and leather trims, makes the six-wheeled monster unique.
The G63 AMG 6X6 also features carbon fiber finishing to some of its exterior features including the front skirt, rear diffuser, side vents, and mirror housing.
The Mercedes-Benz G63 AMG 6X6 has definitely received a good amount of attention from tuning companies, which brings to mind the question whether a stock version of the vehicle will be available since only a limited number was produced by the luxury vehicle manufacturer.