Carlo Adrian Canon
December 19, 2012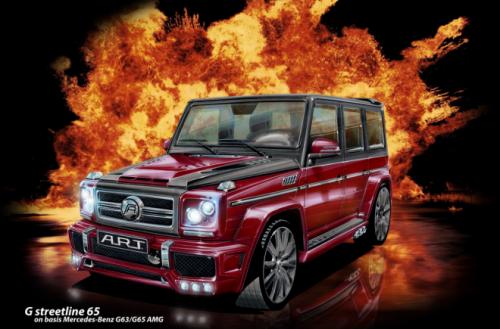 Nürnberg's development team once more has succeeded in combining the unique designs of A.R.T. with the highest technical demands. It's showcasing a new wide body kit with breathtaking front bumper, built-in spoiler, stainless steel sport exhaust system and a power boost for the 2013 Mercedes-Benz G63/65 AMG.
AMG and Mercedes-Benz clients have high hopes from the modifications made by the German tuner A.R.T. Without a doubt, AMG has retained its original character but the results of the remarkable design together with its technically innovative solutions go beyond the expectations.
Technical specifics include reprogramming the ECU and installation of high-flow catalytic converters and extra cooling for the engine, transmission and fuel circuit. The output of the twin-turbo V8 5.5 –liter in G63 is increased, from 536 hp (400 kW) to 681 (508 kW) hp. For the twin-turbo V12 6.0-liter in the G65, the power is increased from 603 hp (450 kW) to 749 hp (558 kW).