Ryan Joseph Ramos
May 13, 2012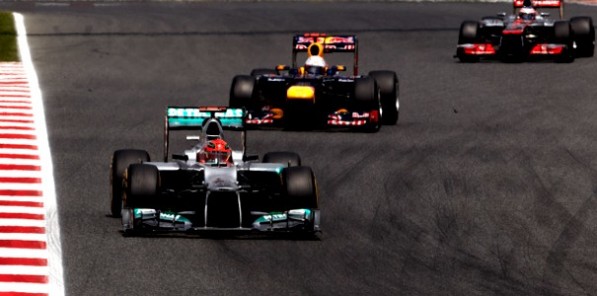 Despite some strong practices and a very solid qualifying session, Mercedes AMG Petronas could not capitalize on its momentum heading towards Sunday's race as Nico Rosberg managed to salvage a seventh-place finish while Michael Schumacher had to retire in lap 13 in the 2012 Spanish Grand Prix.
Williams' Pastor Maldonado emerged victorious from pole position in a race that saw everyone bumped up one spot after erstwhile pole position holder Lewis Hamilton was penalized for having insufficient fuel after qualifying and the McLaren-Mercedes driver ended up starting at the last spot on the grid.
Starting from P6, Rosberg had a solid hold on fifth place late in the race but suffered from—you guessed it—tire problems in the closing laps, which saw Red Bull's Sebastian Vettel overtake him for sixth. At least he was able to hold off Hamilton, who made a dramatic surge all throughout the race to come within 0.20 seconds of Rosberg to finish at the eighth spot.
"We didn't manage to find the right tyre management so I lost two positions towards the end of the race on my last stint which was 26 very long laps," expressed Rosberg, who is seventh so far in the drivers standings with 41 points on the year's first five races. "The one positive thing is that I was able to defend my position against Lewis and keep seventh place, rather than eighth."
The race was definitely much worse for a disappointed Schumacher, who collided with the back of Williams' Bruno Senna on lap 12 and had to retire by turn one of the next lap. Stewards are currently deciding on any penalties and who is to be blamed.
An interesting tidbit for the 2012 F1 season: there have been five different winners in as many races so far this year. Looks like this season is shaping up to be more exciting than anticipated, and that's really very good for the sport as compared to just one driver and just one team dominating throughout the year.