Ryan Joseph Ramos
May 12, 2012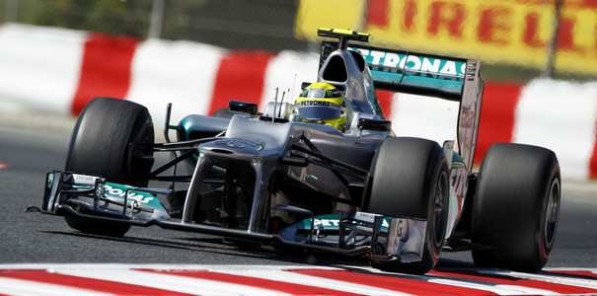 After strong showings in the practice sessions at the Circuit de Catalunya, Mercedes AMG Petronas was able to follow through with good performances in qualifying as Nico Rosberg is set to start at P7 and Michael Schumacher at P9 once the Spanish Grand Prix starts Sunday.
Two cars in the top ten is always a positive start, and Mercedes technical director Bob Bell sees another positive in the fact that the odd-numbered positions offer the 'cleaner side of the grid'.
"That was a tricky qualifying session this afternoon, and seventh position was about the most that we could have achieved," said Rosberg, who posted a Q3 time of 1:23:005. "It was a challenge to find the right set-up for the tyres and some of the others did that better than we did today. However with a good strategy tomorrow, we can hopefully gain some places."
"We wanted to save tyres this afternoon, which dictated how we managed Q3," said Schumacher. "I did not complete a timed lap, and now I still have the choice of what tyres to start on tomorrow."
It's definitely going to be an exciting race over at Barcelona, with Lewis Hamilton of McLaren Mercedes at P1, Williams' Pastor Maldonado a good, strong P2, and Ferrari's Fernando Alonso P3. Teams are still trying to tweak their cars and learning about the tires, so there should be a ton of action in the Spanish GP. Look forward to our report on the race tomorrow.