Clarissa
December 8, 2011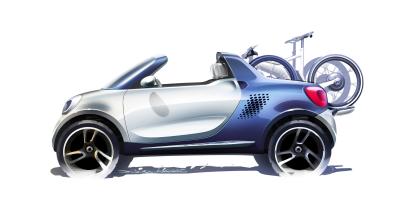 smart is at it again, developing and introducing new features and functions of the car. Now, the car manufacturer will have the smart for-us premier at the Detroit Motor Show.
You will be amazed by the car because aside from its environment-friendly characteristic of zero-emission and its size, they made it a pick-up! Yes, pick-up.
The design: sassy and robust with extremely short overhangs
Compared with the series-produced fortwo the smart for-us makes a powerful statement and its appearance plays with the martial image of conventional mega-pickups. Nevertheless, it greets the viewer with a friendly yet assertive face. It features convex and sensuously shaped body surfaces. The large brand emblem is proudly sported on the grille, and the front has a pronounced three-dimensional design with an underride guard finishing off the lower part of the front end.
The longer wheelbase (2480 mm/plus 613 mm) and the track that has been widened by 50 mm on each side also emphasise the robust look of the study. At the same time the extremely short overhangs at the front and rear make it exceedingly compact.
The tailboard at the rear of the smart for-us is electrically driven. When it opens first of all the cargo floor including tailboard retracts by 280 mm, then the tailgate slides down in a parallel position. The cargo on the 900 mm cargo area is then extremely easy to access.
Sleek, taut surfaces in mother-of-pearl white combined with precisely designed technical functional elements in brushed aluminium – the interior is characterised by contrasts. Like in the smart forvision, the whole cockpit boasts aerodynamic styling for interior ventilation. In place of a conventional rear-view mirror the smart for-us features a smartphone accommodated in a holder on top of the instrument panel support. The driver can see what is happening on the road behind with the help of an integrated video camera.
Stylish, uncomplicated, highly functional and easy to individualise – the two seats in the concept car are typically smart. The seat shells, which are open in the middle, are covered with a soft yellow fabric throw giving them a hammock-like seating feel.
Electric drive – zero-local-emission driving fun
The electric drive of the smart for-us is based on the innovative drive concept of the smart fortwo electric drive, which will be launched in the spring of 2012. Thanks to the 55 kW magneto-electric motor the smart for-us is agile and lively to drive. With 130 Newton metres of torque it boasts powerful, lag-free acceleration and it can overtake other vehicles with the greatest of ease. The maximum speed exceeds 120 km/h. The lithium-ion battery has capacity of 17.6 kWh.
Source:  Daimler AG