Giancarlo Perlas
October 11, 2023
Mercedes-Benz has once again ignited the market with the recent unveiling of its top-of-the-line, high-performance model, the new Mercedes-AMG GT 63 4MATIC+ Coupe. Specially made for petrolheads, the allure of this sports car cannot be overstated.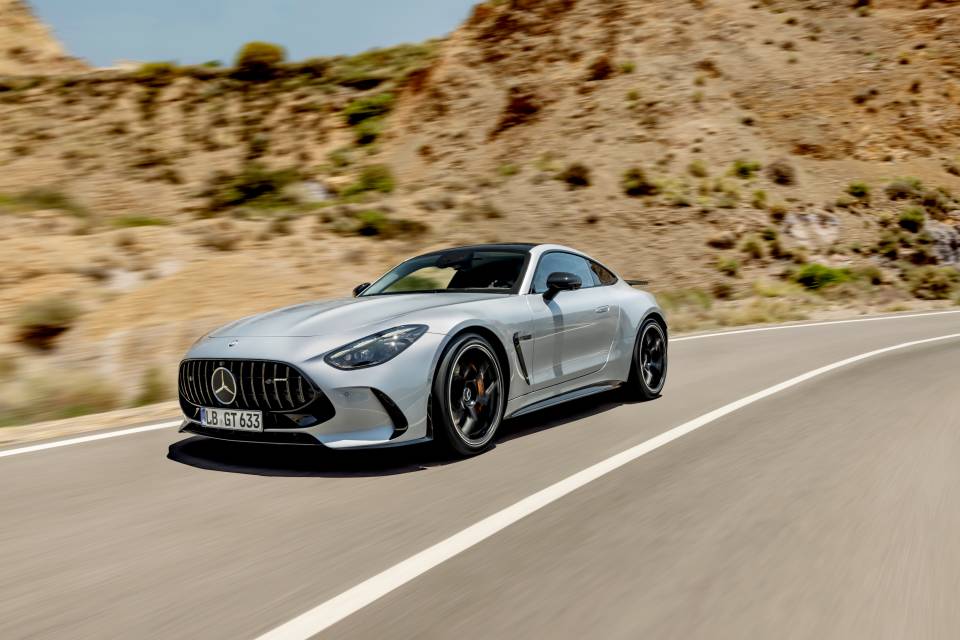 Pricing That Exudes Excellence
In the realm of top-tier sports cars, pricing is often seen as a reflection of the vehicle's prowess, and the new Mercedes-AMG GT 63 Coupe doesn't disappoint in this area. With a starting price of €188,704.25 according to a press release by Mercedes-Benz Media, this model exemplifies luxury and performance in equal measure.
The price point firmly positions the AMG GT Coupe in the upper echelons of the automotive world. Despite its steep retail, the experience this powerful road-legal car offers definitely justifies every euro invested.
Power Meets Practicality
At the heart of the AMG GT 63 Coupe lies a 4.0-liter V8 biturbo engine. The powerplant is capable of generating an astounding 585 horsepower and 800 Nm of torque.
The power unit can propel this sleek machine from 0 to 100 km/h in a breathtaking 3.2 seconds, ensuring a heart-pounding, adrenaline-fueled driving experience.
Sporty Elegance and Spacious Interiors
For its exterior, the AMG GT Coupe truly embodies a harmonious blend of sporty aesthetics and practicality. It boasts a range of high-tech components, including AMG Ride Control suspension with active roll stabilization, active rear-axle steering, and active aerodynamics as standard. These features sharpen the driving profile and enhance the car's performance.
Meanwhile, the sporty coupe's interior exudes an aura of luxury, with sculptural, electrically adjustable AMG sports seats that provide exceptional comfort and lateral support. Passengers enjoy an ample sense of space, even in the 2+2 seating configuration, offering both comfort and versatility.
Likewise, the large Easy Pack tailgate, complemented by the Handsfree Access function, simplifies loading and unloading, while the split-folding rear seat backrests expand the luggage compartment when needed.
Technological Marvel
The AMG GT 63 Coupe features an 11.9-inch MBUX multimedia touchscreen at its core, offering a portrait format for enhanced navigation and ergonomic freedom. Standard features include MBUX Navigation Premium and AMG Track Pace, ensuring drivers have a comprehensive range of tools at their disposal.
Moreover, the memory package allows users to save up to three different seat positions for an unparalleled level of customization.
Plethora of Customization Options
Last but not least, the new AMG GT Coupe goes beyond being just a high-performance sports car; it's a canvas for customization. With an array of individual options, this vehicle caters to the unique preferences of each customer.
These options include the AMG Aerodynamics Package, AMG Night Package, AMG Exterior Carbon Fiber Package, and more, allowing owners to personalize their AMG GT Coupe to match their own style and driving needs.
Final Thoughts
The new Mercedes-AMG GT 63 4MATIC+ Coupe is an exceptional manifestation of automotive excellence. It combines outstanding power, performance, and luxury in a package that is as visually striking as it is thrilling to drive.
Starting at €188,704.25 in Germany, it may not be a practical everyday car for the masses, however, for those who demand nothing but the best, this top-of-the-range model bearing the three-pointed star mark is sure to leave a lasting impression.