Giancarlo Perlas
September 23, 2023
In preparation for the 2023 Japanese Grand Prix in Suzuka, Mercedes-AMG Petronas Formula 1 team revealed their strategic insights and outlook. With Lewis Hamilton and George Russell in the fourth row of the starting grid at P7 and P8, respectively, the group will have a lot of catching up to do with the frontrunners from Red Bull, McLaren, and Ferrari on Sunday's Japanese GP.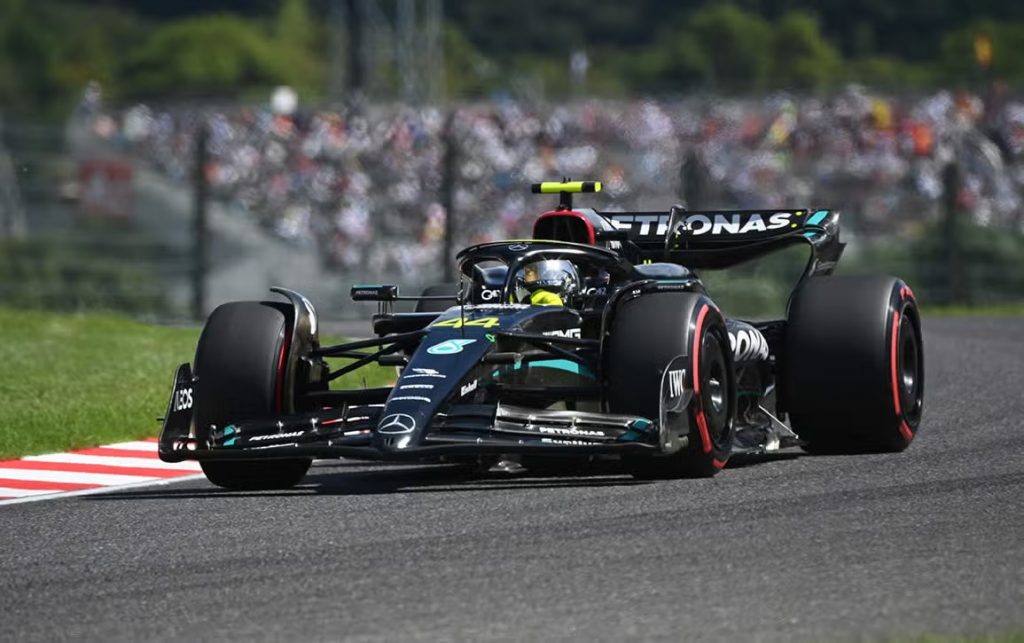 Analyzing Friday's Setback
During Friday's practice sessions, Mercedes faced challenges that seemed to foreshadow a challenging weekend during the Japanese GP. Their car struggled with rear-end grip, resulting in a suboptimal performance.
However, Trackside Engineering Director Andrew Shovlin noted in an interview that these struggles were not uncommon for the team on Fridays. The implication was that they expected to bounce back as the weekend progressed.
Saturday Progress and Japanese GP Sector Analysis
On Saturday, the Mercedes team made significant improvements. They fine-tuned the car's setup, which translated to better performance in the third practice session.
Lewis Hamilton expressed increased confidence in the car during FP3. However, the team's analysis revealed a substantial deficit in the first sector during qualifying, primarily due to a lack of rear-end grip.
George Russell's Assessment
George Russell, on the other hand, echoed the sentiment that Suzuka posed unique challenges. The track featured a wide range of corners, from high-speed to low-speed, where the Mercedes car did not excel across the spectrum.
The young driver compared their performance to the previous week in Singapore, highlighting that the team thrived on tracks demanding high downforce.
Japanese GP Race Day Expectations
Looking ahead to the Japanese GP on Sunday, the people in Mercedes are expecting a challenging race. They anticipate that their race pace would align closely with their single-lap performance, with only marginal improvements.
However, they are banking on strategic advantages, particularly the availability of two hard tires in their allocation, which could open up unique strategy options.
Keeping an Eye on Ferrari
At present, Mercedes is keeping a watchful eye on their nearest championship competitors, with special attention on Ferrari, who are lined up ahead of them on the grid. The team recognizes the importance of strategy in the race, especially given the high expected tire degradation.
Their second set of hard tires gives them the flexibility that could prove crucial in the race.
Final Thoughts
Mercedes F1 acknowledges their challenges at Suzuka and the unique characteristics of the track that didn't play to their car's strengths. However, with strategic insights and tire allocation advantages, they remain optimistic about their chances in the 2023 Japanese GP.