Giancarlo Perlas
September 4, 2023
Mercedes-Benz has unveiled a groundbreaking concept car that's poised to redefine the standards for premium electric vehicles. The Mercedes-Benz Concept CLA EV, showcased at the IAA Mobility 2023 in Munich, Germany, represents a bold leap into the future of sustainable luxury automobiles. This innovative electric car offers a glimpse into the upcoming family of electric vehicles that are not only environmentally conscious but also designed to provide an all-new level of driving experience for discerning customers.
Here are the key features of the new Mercedes-Benz Concept CLA EV based on the press release of Mercedes-Benz USA:
Elevating Electric Experience
The Mercedes-Benz Concept CLA EV is not just another electric car; it's a testament to the brand's commitment to innovation and sustainability. Built on the Mercedes-Benz Modular Architecture (MMA) platform, it exemplifies the company's vision for a new dawn of electric vehicles in consonance with its Ambition 2039 program.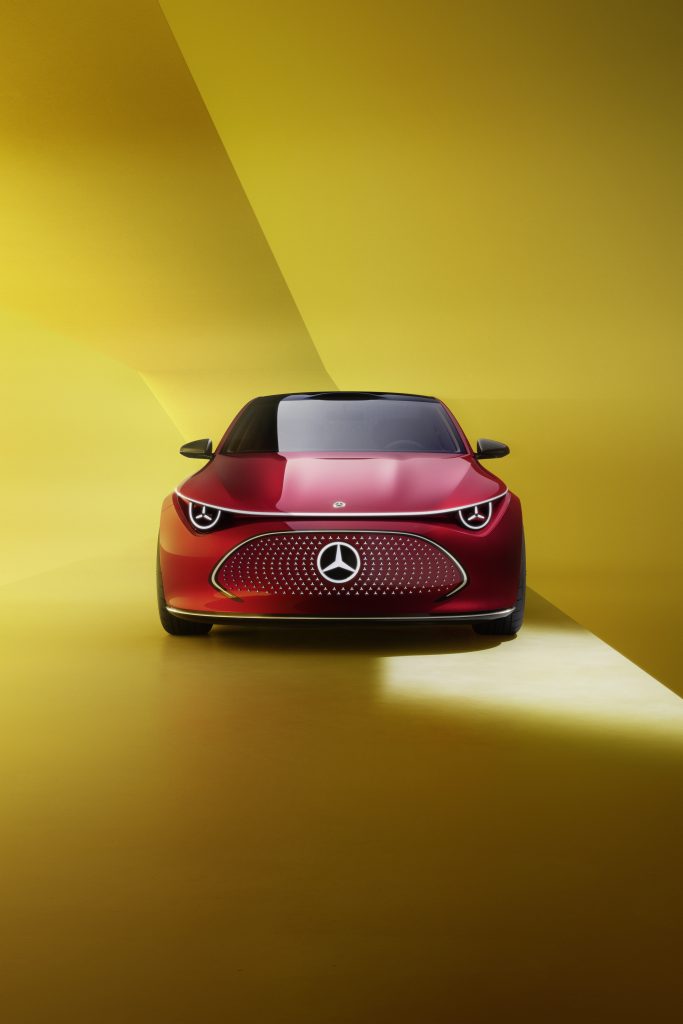 Looking at the concept, it sports a glossy cherry paint finish with seamlessly crafted indentations along its body that elevate the car's character. It also appears to retain the length of the current CLA, but no official measurements have been provided by its maker by far.
Additionally, the EV incorporates an illuminated nose plus a thin LED strip lining up the edge of the hood and headlamps resembling the three-pointed star emblem of Mercedes. The hood looks longer than the usual EVs of the brand, which suggests that at least one of its production models might have an ICE partnered with the electric motor. These are topped up by a set of 21-inch wheels.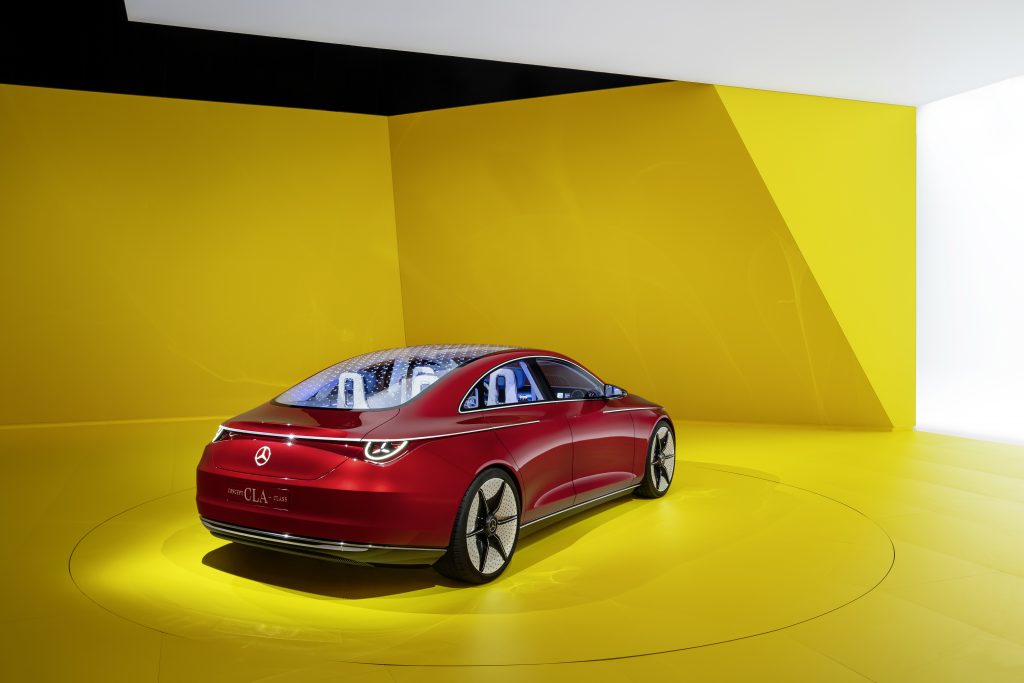 According to Mercedes-Benz Group AG CEO Ola Källenius, the CLA EV is the precursor to four upcoming all-electric models of the three-pointed star marque comprising two SUVs, a four-door coupe, and a shooting brake. With an electric drivetrain offering a range of over 750 kilometers (466 miles) based on the WLTP standards and an energy consumption of only 12 kWh/100 km (5.2 mi/kWh), this concept promises to set a new benchmark for efficiency in the electric vehicle market.
Efficient Power and Rapid Charging
One of the standout features of this concept car is its 800 V electric system, which not only enhances efficiency but also allows for rapid charging based on the statement of Mercedes-Benz Group AG CTO Markus Schäfer. In just 15 minutes, the Mercedes-Benz Concept CLA EV can charge up to 400 kilometers (248 miles), making long journeys more convenient and accessible.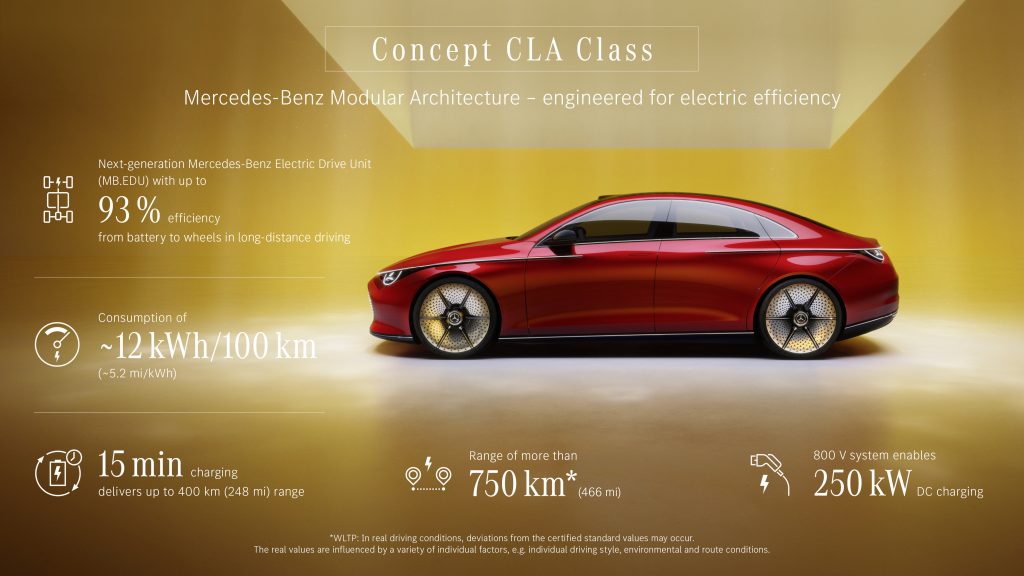 This technology not only minimizes charging downtime but also contributes to reducing the carbon footprint of electric vehicles.
Cutting-Edge Technology
Moreover, Mercedes-Benz has incorporated the latest advancements in technology to elevate the driving experience. The car is equipped with the new Mercedes-Benz Operating System (MB.OS), which harnesses the power of supercomputing and artificial intelligence to offer a level of personalization, safety, and convenience that's unparalleled in the industry.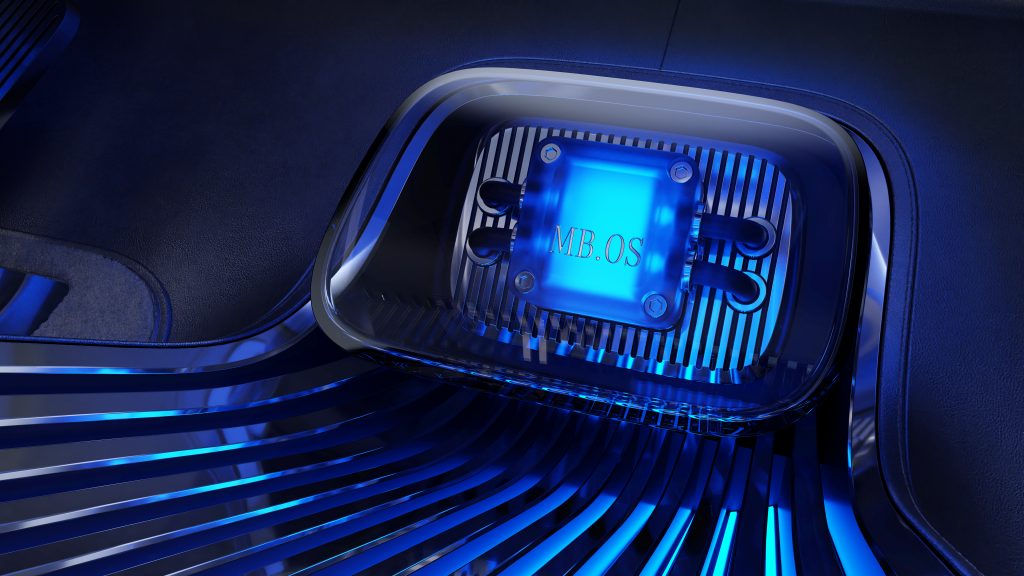 The MB.OS ensures that the vehicle is not just a mode of transportation but a connected and personalized AI companion as well.
Safety Redefined
Furthermore, safety is paramount in the Mercedes-Benz Concept CLA EV, and it goes beyond conventional measures. The innovative Child Presence Detection (CPD) system mitigates the risk of young children being accidentally left in the vehicle during warm weather, ensuring their well-being.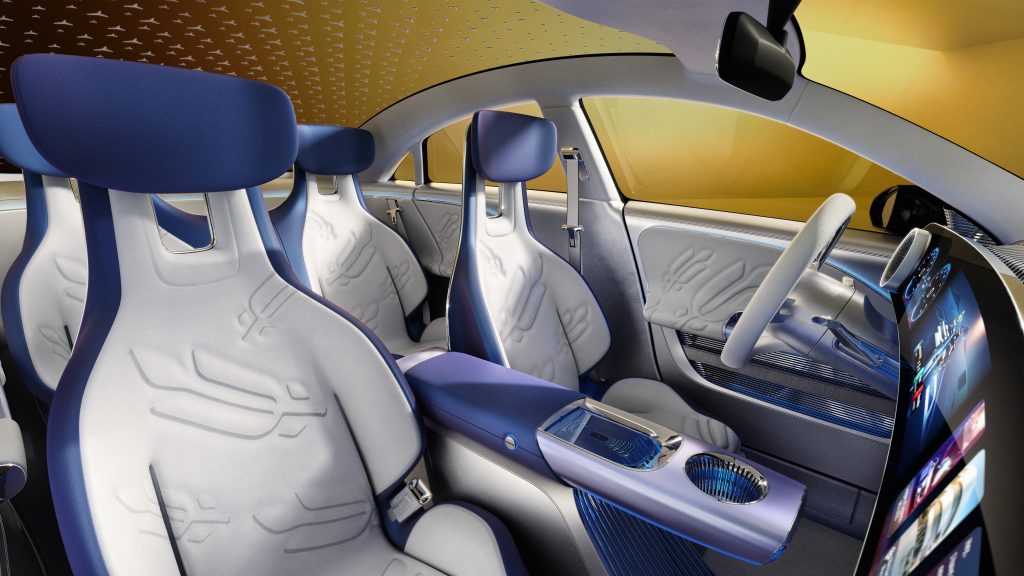 With this evolution in car safety equipment, Mercedes-Benz continues to lead the way in setting safety standards that prioritize accident-free driving.
Sustainable Luxury
Lastly, in the pursuit of sustainability, the Mercedes-Benz Concept CLA EV incorporates a range of eco-friendly materials throughout its structure and interior. From almost CO2-free steel and CO2-reduced aluminum to sustainably produced leather upholstery and trim made from paper, this car redefines luxury with a conscience.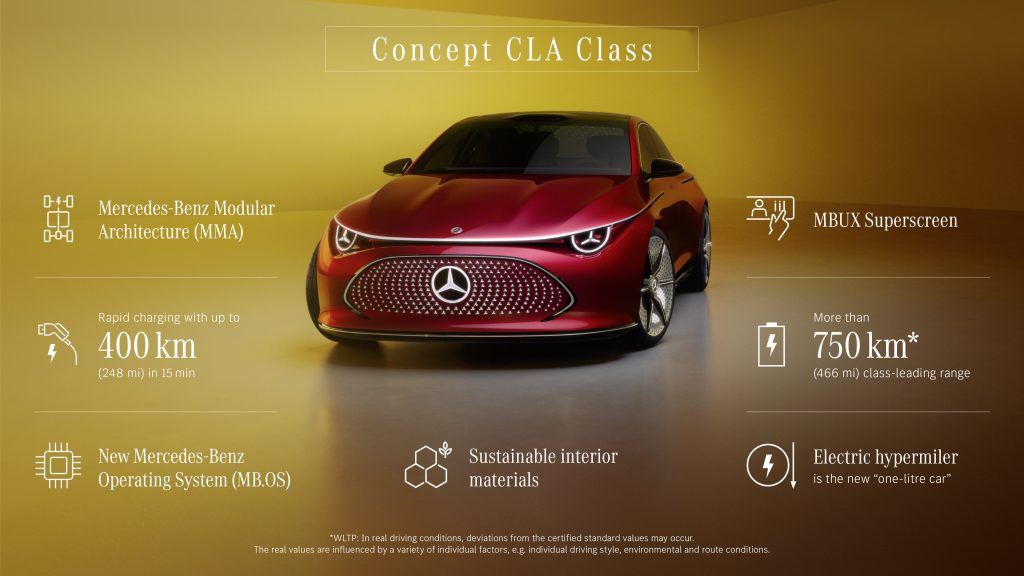 These serve as a testament to the brand's commitment to a more sustainable and environmentally responsible future.
Final Thoughts
Overall, the Mercedes-Benz Concept CLA EV is a window into the future of electric mobility. With its exceptional range, rapid charging capabilities, cutting-edge technology, and unwavering commitment to safety and sustainability, it aims to usher in a new era of automotive excellence.
Mercedes-Benz continues to push the boundaries of what's possible in the electric vehicle market, setting a new standard for luxury, efficiency, and innovation going forward in the form of the latest Concept CLA EV.