Giancarlo Perlas
July 21, 2022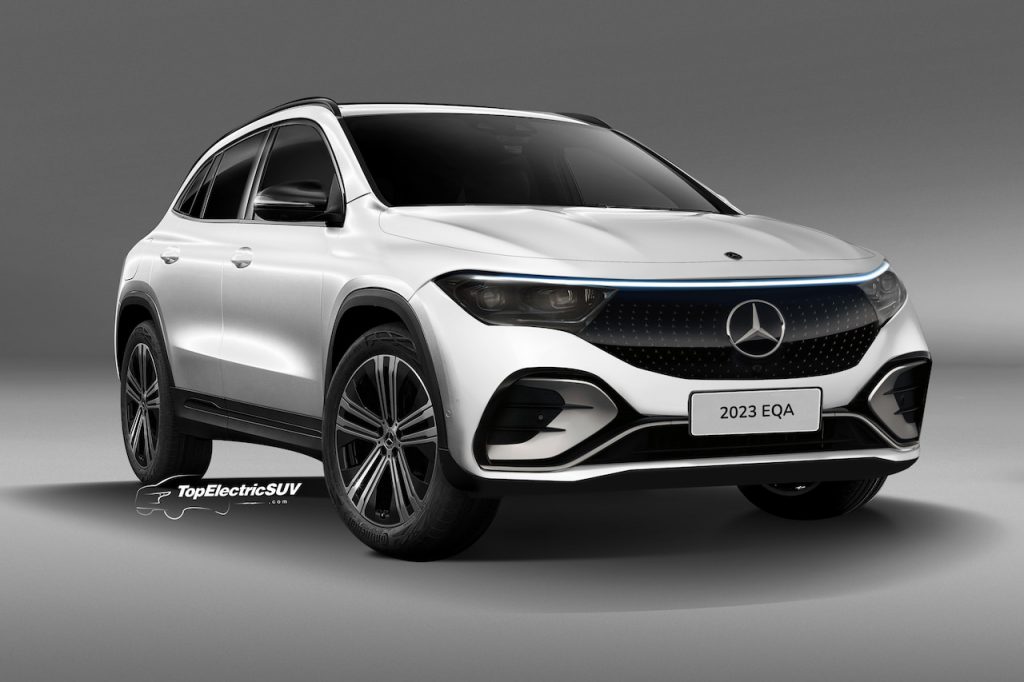 The Mercedes-Benz EQA crossover only made its debut in January last year but new spy shots already reveal that it is due for a facelift. Our suspicion was fueled by a version of the EV in the stolen shots with its fascia partially camouflaged.
Normally, vehicles being officially test-driven with parts concealed by wraps indicate major updates coming their way, specifically on the covered areas. This is quite strange for the EQA because it is relatively new in the lineup of Mercedes. However, we believe that the minor redesign is a way for its maker to synchronize its styling with the new and incoming EVs under the EQ range.
Taking cues from the more luxurious EQE and EQS SUV, our good friends at TopElectricSUV made a rendering of what we can look forward to from the facelifted EQA, and they were nice enough to share it with us. As seen in the image above, they have envisioned the refreshed EQA sporting a revised faux grille with a scattered star pattern plus more aggressive headlamps to keep it a bit distinct from the other offerings of the EQ line.
The facelifted EQA will most likely be sold as a 2023-year model car. Apart from the mentioned updates, we don't expect anything more from the refreshed EV. With that, it will remain with its selection ranging from the EQA 250 to the EQA 350 featuring one to two electric motors tuned within the range of 140 kW to 215 kW and 385 Nm to 520 Nm of torque.