Giancarlo Perlas
July 1, 2022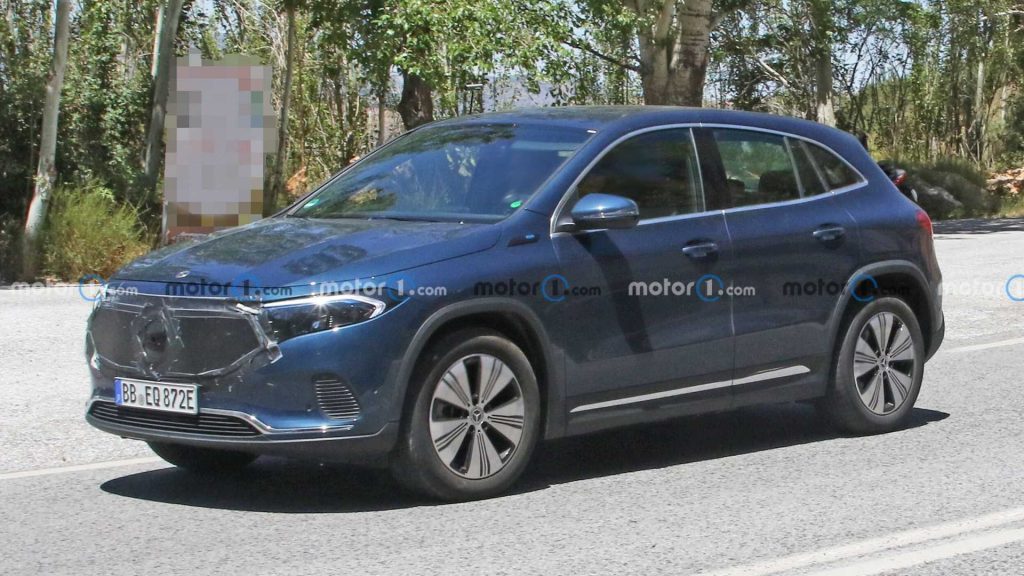 It's only been a year since the Mercedes-Benz EQA made its debut, but here we are looking at new spy shots of the electric vehicle. The photos show the car with its fascia hidden by a black wrap.
From the photos of Motor1, only the area on the faux front grille of the EQA is covered, which indicates an update on that part. It can be noticed that the upper portion of the camouflaged portion also hints at a thin lining of some sort, which we suspect is the location of a narrow strip of lighting connected to the headlamps and crossing over the top of the faux front grille.
All other areas are exposed, so don't expect anything more than the mentioned update. Likewise, since the model is still new, it does not make sense for Mercedes to change its electric powertrain anytime soon. We have the same thoughts on its interior design as well.
As a recap, the EQA possesses a single asynchronous electric motor mounted on the front axle that's powered by a lithium-ion battery with 66.5 kWh capacity and estimated range of over 300 miles. Its power varies on each trim but the base model offers 188 hp while the dual-motor model with all-wheel drive is capable of 288 hp.
We don't know the reason for the very early facial reconstruction of the EQA but it's possible that Mercedes might only be looking to distance it more from its fuel-fed counterpart, the GLA compact SUV.