Giancarlo Perlas
July 31, 2021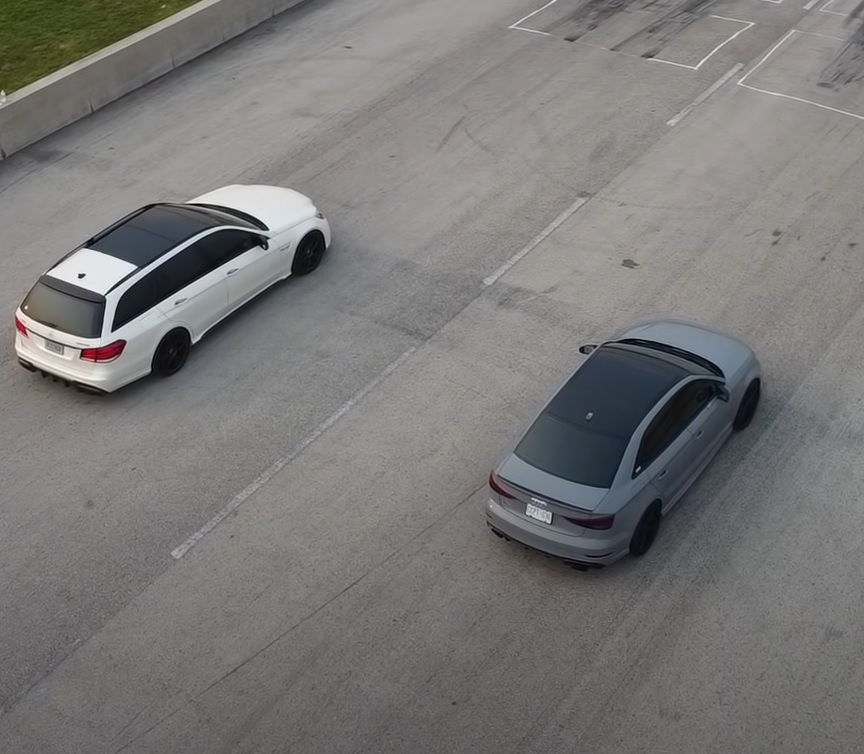 Although SUV-crazed US customers are enjoying the likes of the GLA, GLB, GLC, GLE, and GLS, they are certainly missing out from the three-pointed star marque's hatch and wagon models. One of them is the Mercedes-AMG E63 S Wagon that's about to race the Audi RS3 in the video here.
Before the race, here's a quick look at the competitors:
Mercedes-Benz E63 S AMG Wagon
The Merc here carries an AMS Performance Alpha 7 package. It boosts the performance of the car's 5.5-liter twin-turbo V8 engine to the tune of 750 bhp and 830 lb-ft of torque. The output is directed to an all-wheel-drive system and distributed via a seven-speed automatic transmission. Meanwhile, the vehicle's curb weight is at 4,703 lbs.
Audi RS3
The car with the four-ring logo features Stage 2 ECU and Stage 1 TCU tuning. The engine was not specified but it probably carries a 2.5-liter inline-five engine. It is also fitted with a CTS downpipe, mid-pipes with a 4-inch intake, and a 4-inch turbo inlet. The tuning kit brings its power to 550 bhp and 580 lb-ft of torque. All its power goes to an all-wheel-drive system and is managed by a seven-speed automatic transmission. Despite the huge handicap of the Audi compared to the Merc in terms of performance, it is lighter by 1,110 lbs, so the weight difference should play out to the RS3's advantage.
The Drag Race
Find out which car will emerge victorious on the tracks in the video below: