Giancarlo Perlas
May 12, 2021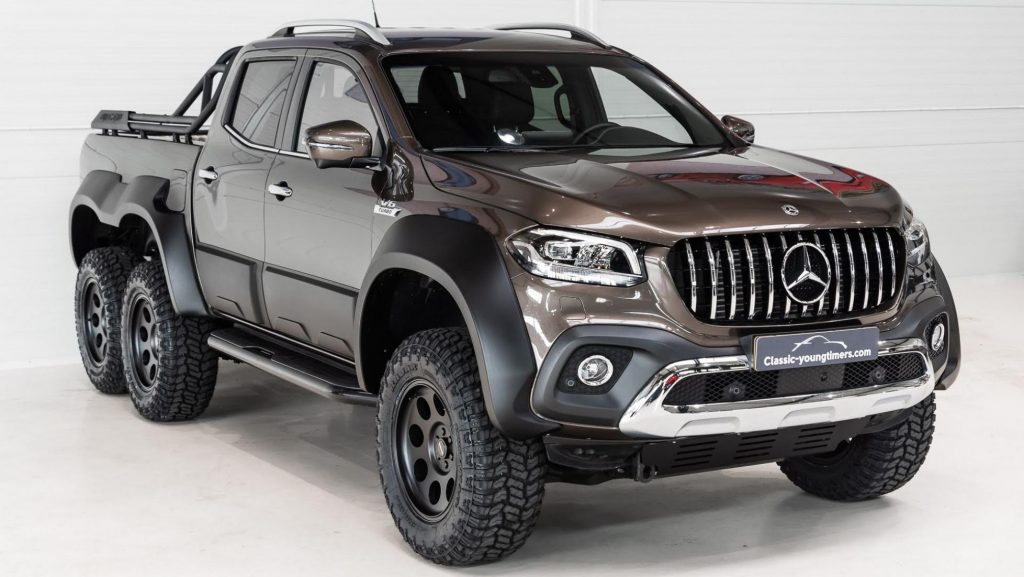 Half a decade ago, fans bid farewell to the limited production Mercedes-Benz G63 AMG 6×6, but it still remains as one of the most-coveted gems of the past as you are even lucky if you find one with a $900,000 price tag. Taking a page from the six-wheeled G-Class, one tuner turned the limited-run luxury pickup truck of the three-pointed star marque into a Mercedes-Benz X-Class 6×6.
The six-wheeler X-Class was just sold by Dutch car auction site Classic Youngtimers Consultancy. According to the seller, the auto is based on the X350d trim of the Mercedes pickup. The auto retains its 3.0-liter turbodiesel V6 engine with 254 hp.
The X350d 6×6 only has 10,538 km in its odometer and it was built in 2020. There was no mention about the company responsible for the upgrade, but it is most likely that Carlex Design is behind it since the name appears at the side railing on the bed of the vehicle. It should be recalled that the Polish tuner introduced their 6×6 program for the X-Class back in 2018 but they went silent about it after.
Aside from the extra axle, among the other notable features of the X-Class 6×6 includes a 4-inch lift, huge off-road tires, flared wheel arches, door protectors, and fat front grille with vertical slats similar to the ones found in the Mercedes-AMG GT R. The rest, especially the interior upholstery, were left in their stock configuration.
The new performance figures and details about the new owner of the Mercedes-Benz X-Class 6×6 were not disclosed by the seller.