Giancarlo Perlas
February 4, 2021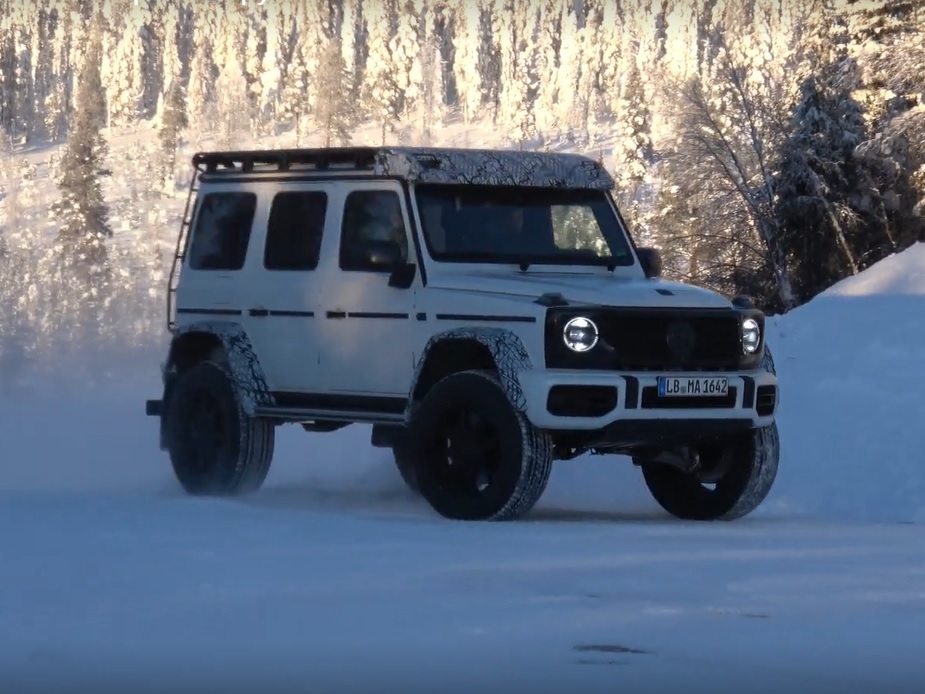 Previously, spy shots of the Mercedes-Benz G550 4×4 surfaced that shows the iconic SUV in an off-road setup while testing in the snow. Now here's the actual spy video giving us a behind the scene look at the images. The video confirms that the auto may not be a 4×42 after all.
The new spy video confirms that the G550 4×4 Squared will end up as a one-shot deal from Mercedes. That's because the partly camouflaged prototype only shows a front portal axle instead of having a pair for the front and rear. It means the SUV will simply be a G550 4×4.
A closer look at the base of the auto reveals lower control arms that suggest the presence of a traditionally-driven independent front axle. The setup also appears to keep the vehicle closer to the ground.
One less portal axle would mean a lower the pricing for the G550 4×4. However, it should be noted that a front portal axle is more complicated to make.
As for the other features of the auto, there doesn't seem to be any other noticeable changes since the most recent spy shots of the G550 4×4 and it looks like the auto retained most of its predecessor's key design elements, except for some tweaks on the wheel arches and roof rack. But then again, it is good to see the two off-road G-Class units in action this time.
Furthermore, listening carefully to the sound of the G550 4×4 will reveal that familiar V8 sound as the outgoing model. Old fans of the iconic SUV can rejoice too because the video also shows us that it still has side exhaust pipes.
The new winter test video of the Mercedes-Benz G550 4×4 from Motor1 can be played via this link.