Giancarlo Perlas
February 1, 2021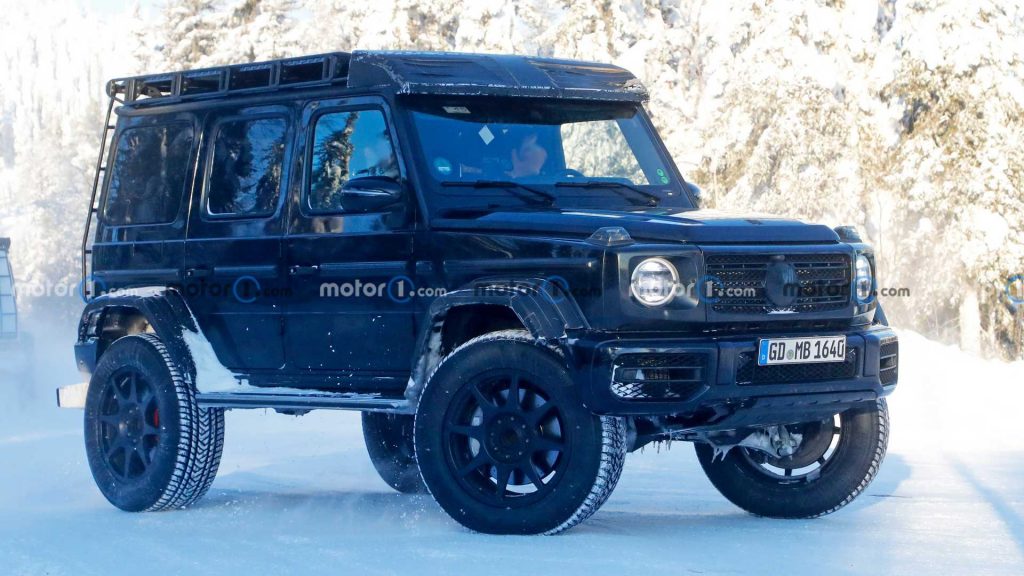 The 2022 Mercedes-Benz G-Class 4×4 Squared was seen making its rounds again. This confirms that the iconic SUV is here to stay amid the complete streamlining efforts of its maker. To go with the changes in the automotive landscape, which is now geared towards electrification, Daimler CEO Ola Källenius confirmed Mercedes' plan to electrify the auto back in 2019, and the new spy photos display that plan in motion.
The new spy shots from Motor1 show the G-Class riding on portal axles, which suggests that we are looking at its new 4×4 Squared model. The follow-up to the Mercedes-Benz G550 4×42 is partly covered in camouflage, but the changes are very obvious.
Among the other key highlights of the spied G-Class 4×42 include extended fenders, roof rack connected to a ladder mounted on the rear, rear-mounted spare wheel, a LED light bar on the roof, and large wheels wrapped in off-road tires. The lack of exhaust pipes hints at the vehicle's pure electric powertrain. The setup of the SUV makes it more imposing that it even dwarfs the GLE Coupe parked next to it in some of the images.
The minimal camo and the frequency of testing of the new Mercedes-Benz G-Class 4×42 suggest that its official unveiling might be coming up a few months from now. We have no idea about the price tag of the product yet but it should be very expensive considering that its fuel-fed predecessor started at around $225,000.