Giancarlo Perlas
November 7, 2019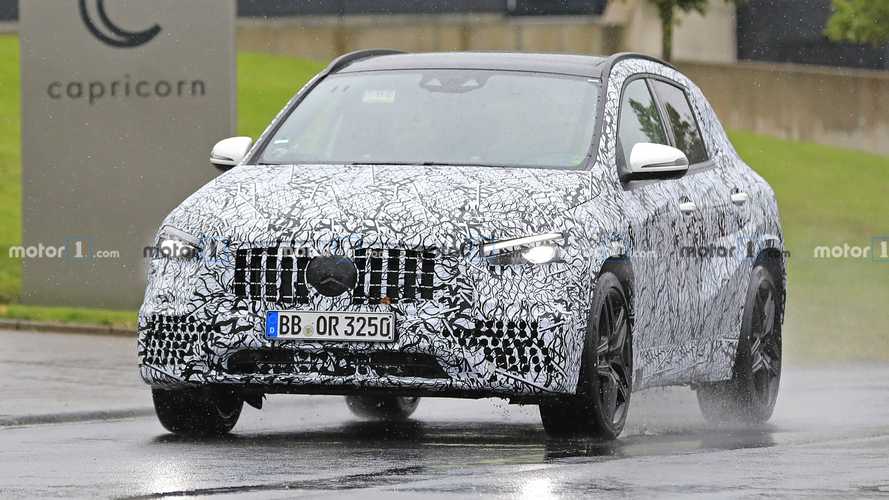 The second-generation of the Mercedes-Benz GLA is suspected to be unveiled in only a few months. Even no official announcements have been made about the vehicle yet, the Mercedes-AMG GLA 45 S variant of the crossover has already been spied testing during a rainy day.
According to Motor1, the photos were taken in the city of Konstanz somewhere in the southern area of Germany. The auto is clothed in zebra camouflage but its stance and overall shape tell us that what we are looking at is definitely a GLA.
Even if it's hard to make out what's under the wraps, there are also hints that the crossover is from Mercedes' performance arm. In front, we can see a crisscrossing pattern on its nose that possibly hides AMG's signature Panamericana grille. There are small rounded holes on the sides of the front bumper that indicate the location of large air vents too. Meanwhile, going on the sides show extended fender flares and wheels measuring at least 20-inches wrapped in thick sports tires. The biggest giveaway that the trim of the vehicle is at least the GLA 45 though is its quadruple exhaust tips.
A glance at the interior of the prototype reveals elements found within the Mercedes-AMG A45 hatchback. Among them are the leather seats with integrated headrests and Alcantara-clad steering wheel.
The AMG GLA 45 S is rumored to use the world's most powerful inline-four engine with at least 416 hp and 500 Nm of torque. The trim below it, the AMG A45, should have the same power unit but it will only produce around 382 hp and 480 Nm torque. There is the entry model in the AMG lineup of the range as well, designated as the GLA 35, which will likely have 302 hp and 400 Nm of torque.
Standard in the AMG GLA models is an all-wheel-drive system and automatic transmission. The units will most probably use Mercedes' eight-speed automatic gearbox with drift mode as an optional feature for the variants below the Mercedes-AMG GLA 45 S.