Giancarlo Perlas
August 14, 2019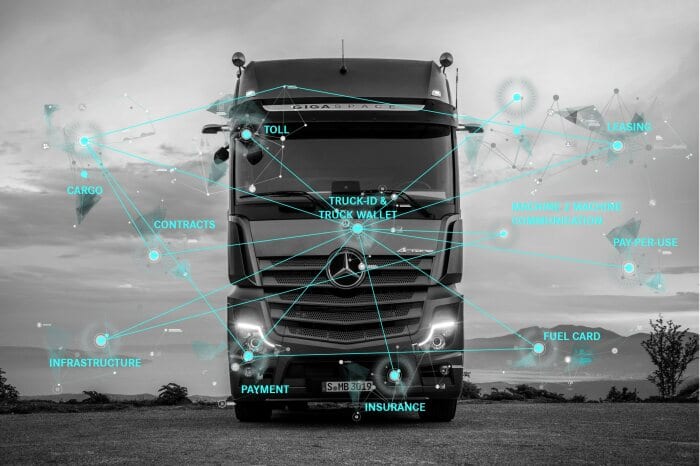 Daimler is on a roll to make their vehicles autonomous. Meaning, technologies currently being developed by Mercedes-Benz's parent company will soon allow its trucks to make financial transactions such as refueling, recharging (for electric trucks), and paying toll fees.
The Truck-ID will allow trucks to identify themselves and other trucks in the system. The ID is integrated into the truck and acts as a unique signature that will identify them when they make transactions. The Truck Wallet will work as a platform technology that the Truck-ID can access for various applications and processes. Both of these technologies are currently in the prototype phase.
Dr. Helge Königs, head of the Truck Wallet project at Daimler Trucks, defined the project as a "true technological milestone." In the future, the German company aims for its trucks to be able to act on their behalf. This will allow drivers to concentrate more on their driving tasks and it will benefit hauling companies to significantly reduce administrative work and secure processes.
The technology will make fraudulent transactions impossible. Criminals also won't have access to the Truck-ID or Truck Wallet since both will use encrypted software programs within a cryptographic processor.
The Truck Wallet will work just like a real wallet does. It will hold cash for payments, as well as additional cards such as fuel cards and loyalty cards. These will all be in digital form. When the truck goes in for refueling, the payment can be transferred to other machines by way of WiFi connection.
On the other hand, the Truck-ID will work as a digital signature. Whenever a transaction is made using the Truck Wallet, the Truck-ID will sign the processes, confirming that the transactions were made by the corresponding truck.
Daimler Trucks will continue to test these technologies for future use.