Giancarlo Perlas
February 27, 2019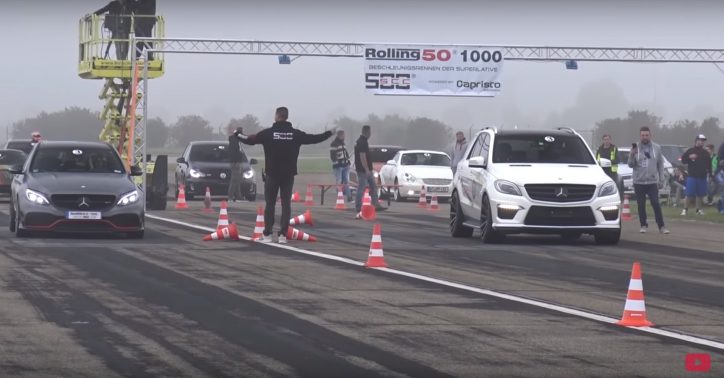 We just saw the official photos and key features of the new Mercedes-AMG GLE53 4MATIC+ sport utility vehicle, and everything about it looks pretty impressive. Before the GLE though was the M-Class showcasing the Mercedes-Benz ML63 AMG as one of its range-topping trims.
A new video surfaced in YouTube featuring a tuned Mercedes ML63 AMG racing several high-performance vehicles including its fellow Mercedes-Benz C63 AMG as well as the Volkswagen Golf, Porsche Macan and Corvette C7.
If you think that the Merc SUV is too massive to be competing against the smaller cars, its 800 hp output within its 5.5-liter V8 tells a different story altogether.
According to the Gumbal channel, Swiss tuner LA Performance was responsible for the modifications in the original 525 hp engine of the ML63 AMG. The name of the company also appears in the decals of the auto. The chip-tuned SUV is equipped with Vossen sports wheels to enhance its driving performance too.
During the drag race, the more recent C63 AMG wagon with 510 hp in its 4.0-liter V8 engine was no match for the ML63 AMG. The Volkswagen Golf 7.5 R with around 500 hp in its 2.0-iter TSI engine didn't fare any better also. Among the other cars, only the Corvette outpaced the Mercedes SUV.
The most interesting part was the competition between the Macan and the ML as both belonged in the SUV classification. However, the 360 hp output from the 3.0-liter V6 of the Porsche was too underpowered versus the 800 hp Benz. Just look at that gap between them!