Giancarlo Perlas
July 22, 2018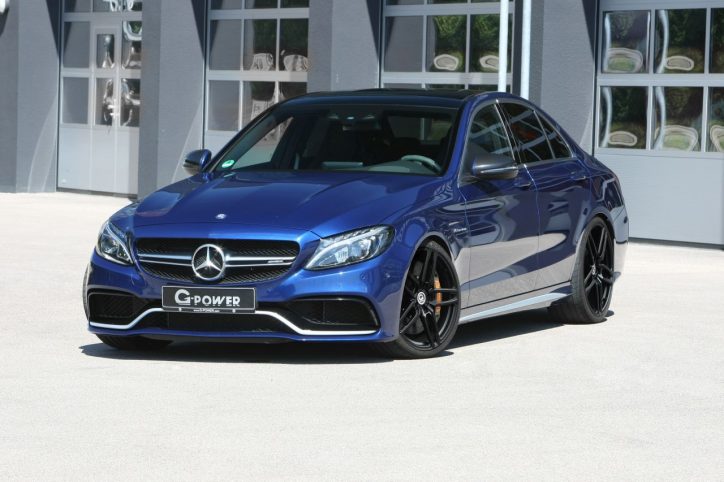 Now in its fourth generation, the Mercedes-Benz C-Class has remained the same since 2014—except for a minor facelift to freshen up its features a bit for consumers. Recently, G-Power launched a way to spice up the Mercedes-AMG C63 S version of the range.
Currently, the most potent form of the C-Class is the AMG C63 S. Its 4.0-liter biturbo V8 engine packs 503 hp and 700 Nm of torque partnered to an AMG SPEEDSHIFT MCT 7-speed automatic transmission. The setup takes the car from 0-100 km/h in only 4 seconds.
With the G-Power performance kit, the total output of the C63 S is increased to 600 hp with 800 Nm of torque. The numbers are 97 hp and 100 Nm more than the stock configuration of the car. The figures are 3 hp and 50 Nm shy of equalling the power of the Mercedes-AMG E63 S!
The upgrade boosts the top speed of the C63 S from 250 km/h to 300 km/h. Meanwhile, the 0-100 km/h run of the sedan is at 3.8 seconds—0.2-second faster than its stock version.
The improvements are thanks to the G-Power Module V1, including a Vmax boost. Alternatively, the upgrade can also be achieved through the G-Power Performance Software V1, uploaded directly to the ECU. The tuner mentioned too that they are willing to provide up to 800 hp boost in case the customers are not yet content with the 600 hp increase.
Similar to the tuner's other works—like the G-Power Mercedes-AMG GT S—it does not offer major changes in the overall look of the AMG C63 S. It only puts the G-Power badge at the rear of the car and fits it with a set of Hurricane RR 20-inch forged wheels.