Giancarlo Perlas
March 4, 2018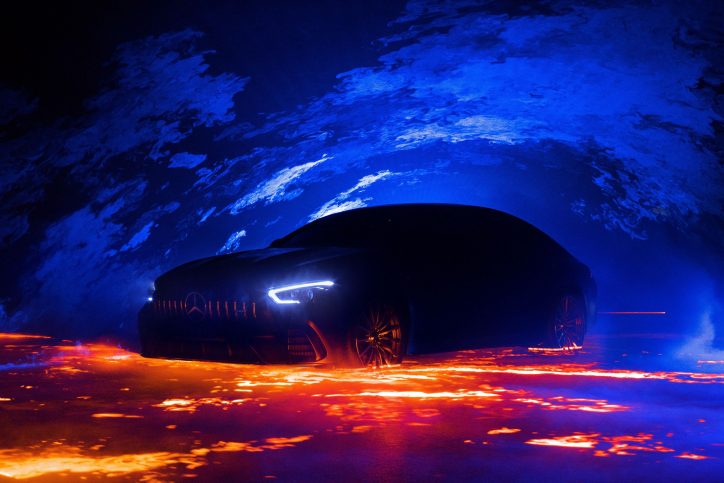 With only days before it makes its world premiere at the 2018 Geneva Motor Show, the Mercedes-AMG GT Four-Door was teased again. The new images give us a preview of the car's front and rear.
Despite the shadows purposely obscuring the major exterior elements of the new Mercedes-AMG GT sedan, we can already make out most of its styling features.

Combined with what we have learned from the other spy shots of the Mercedes-AMG GT Four-Door, which came out before the teasers, we can see that the car sports the signature Panamericana front grille styling of AMG. It is fitted with a set of sports tires from Mercedes' high-performance brand too. Then, we noticed that it has very large air ducts in the front bumper. It also displays quadruple tail pipes, rear diffuser and rear wing.
In a nutshell, most of the exterior features of the AMG GT were simply carried over to the high-performance sports sedan. However, it should be noted that the Mercedes-AMG GT Four-Door does not share the same platform with its two-door AMG GT siblings.
The Mercedes-AMG GT Four-Door rides on a reworked version of the platform utilized by the Mercedes-Benz E-Class and CLS Coupe. In fact, AMG even mentioned that the AMG GT sedan is more closely related to the four-door CLS coupe.
There is no official information yet regarding the engine of the four-door Mercedes-AMG GT's production version. A look back at its concept suggests that it will likely have a 4.0-liter biturbo V8 paired to electric motors. The hybrid setup is engineered to deliver at least 800 hp.