Giancarlo Perlas
January 5, 2018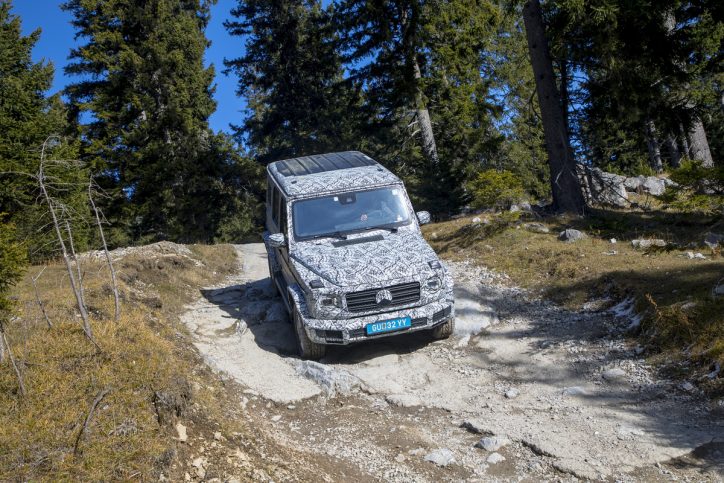 Before its official unveiling at the 2018 Detroit Motor Show, the off-road capabilities of the new Mercedes-Benz G-Class was again put to the test in the Schockl, a mountain near the Austrian city of Graz with a 1,445-meter altitude. The iconic SUV of the three-pointed star successfully displayed its endurance by conquering the 5.6 km trail of the mountain.
According to MBUSA, the route included gradients of up to 60 percent and lateral inclinations of around 40 percent. Prior to the recent testing in the location, the G-Class already logged more than 2,000 km in the strenuous course.
While that feat can be accomplished by the likes of the Toyota Land Cruiser or the Jeep Wrangler, the G-Class puts itself above them with its better body control features and more comfortable cabin even in off-road conditions.
From the latest trip of the G-Class in Shockl, Mercedes said that the vehicle showed the following:
Slope climbing ability of up to 100% on suitable surfaces
Ground clearance between the axles, 241 mm, plus 6 mm maximum fording depth now 70 cm in water and mud passages, plus 10 cm
Driving stability at angles of 35°, plus 7°
Angle of departure: 30°, angle of approach: 31°, plus 1°
Breakover angle: 26°, plus 1°
Suspension travel: Front axle: Spring/rebound travel of 85/100 mm; rear axle: Spring/rebound travel of 82/142 mm
Mercedes also introduces the new G-Mode function in the G-Class. Basically, this additional drive program is intended for off-roading. It manages the adjustable damping of the chassis, steering and acceleration. Then it prevents the vehicle from doing unnecessary gearshifts.
Another new feature in the G-Class is it's now packing a 9G-TRONIC automatic transmission mated to a dedicated software app for quicker response time.