Giancarlo Perlas
January 13, 2018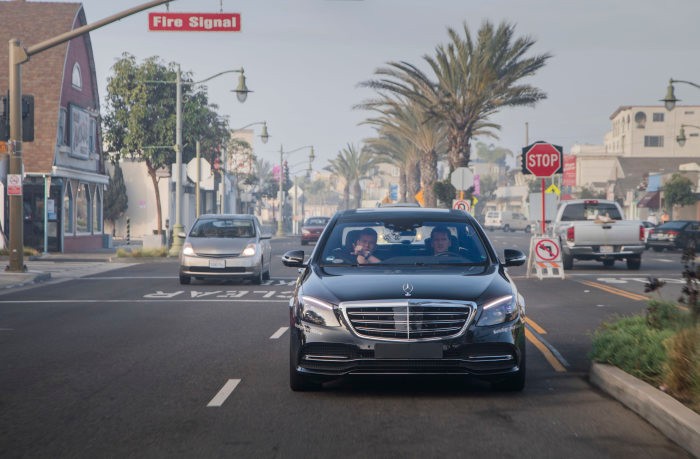 School buses, Bott's Dots, carpool lanes and speed limits signs. These are four major problems that the individuals behind the Mercedes-Benz self-driving car project are trying to solve.
During the last leg of Mercedes' Intelligent World Drive global tour wherein the automaker fitted its S-Class with self-driving capabilities, they found out that the factors mentioned presented potential trouble for autonomous cars in the United States of America.
1. School Buses
In the U.S., school buses are special road users. Once a school bus comes to a halt and its red sign has been activated, every vehicle within its immediate vicinity must also stop. Even incoming autos from the opposite directions must take heed. Mercedes is devising a way for their self-driving cars to recognize a school bus and when it is loading or unloading its occupants.
2. Bott's Dots
These are plastic or ceramic bumps that are used by several states to mark lanes instead of painted lines. The system within a self-driving car can easily distinguish painted markings. However, its features such as Active Lane Keeping Assist and Active Steering Assist find it hard to detect them.
California is gearing to remove all of its Bott's Dots in order to harmonize all lane markings. Mercedes is hoping that other states will follow.
3. Carpool Lanes
One special challenge presented by carpool or HOV (high-occupancy) lanes is that they are not always within a specific position on the road. They can be placed on the left, right or middle of the highway. Then its indicators vary from metal railings, painted diamonds or twin uninterrupted yellow lines. Therefore, the self-driving car of Mercedes found it difficult to identify them.
Mercedes is looking to make its camera and radar systems recognize these lanes. Furthermore, the automaker is also developing a way for its self-driving cars to check whether they are permitted to use carpool lanes or not.
4. Speed Signs
The shapes and sizes of speed signs in the U.S. vary as well as in the different parts of the world. Mercedes self-driving cars are having a hard time distinguishing some of them.