Giancarlo Perlas
March 6, 2017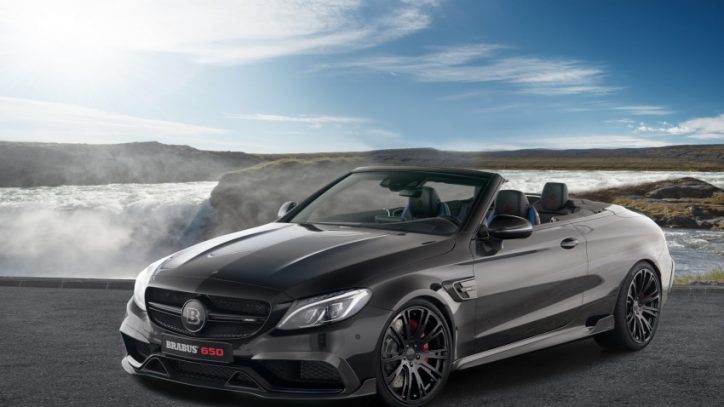 Brabus just released its new tuning package for the new Mercedes-AMG C63 S Cabrio. The fully-transformed car with the package is rechristened as the Brabus 650 and it is set to be showcased at the 2017 Geneva Motor Show.
Check out the top 3 reasons why you should get the Brabus Mercedes-AMG C63 S Cabriolet here:
1. Engine Power
Brabus retains the handcrafted AMG 4.0-liter biturbo V8 engine of the car. However, the power of the unit is bumped from the original 510 hp and 700 Nm of torque to 650 hp and 820 Nm of torque.
The boost allows the auto to accelerate from 0 to 62 mph in just 3.7 seconds. Its top speed is also brought up to 200 mph.
The performance increase is thanks to the Brabus PowerXtra B40S kit. The kit offers both hardware and software upgrades.
2. Exterior
Outside, the Brabus 650 features carbon fiber elements in the air intakes, side mirror caps, front spoiler and rear diffuser. The vehicle has new stainless steel exhaust tips too. To top it all off, the car gets 20-inch forged wheels wrapped in 255/30R20 and 285/30R20 front and tear tires, respectively. Furthermore, customers can increase the ride height of the auto from 0.8 to 1.6 inches through a custom sports suspension.
3. Interior
Brabus does not shy away from putting its personal touch inside the AMG C63 S Cabriolet. The package of the tuner gives the cabin of the car black leather accentuated by azure blue linings and carbon fiber elements. The pedals and door lock pins come in aluminum as well. One noticeable portion in the vehicle is its speedometer, which displays up to 311 mph.
Photos
The gallery below shows the Brabus Mercedes-AMG C63 S Cabriolet in all its glory: