Giancarlo Perlas
October 1, 2016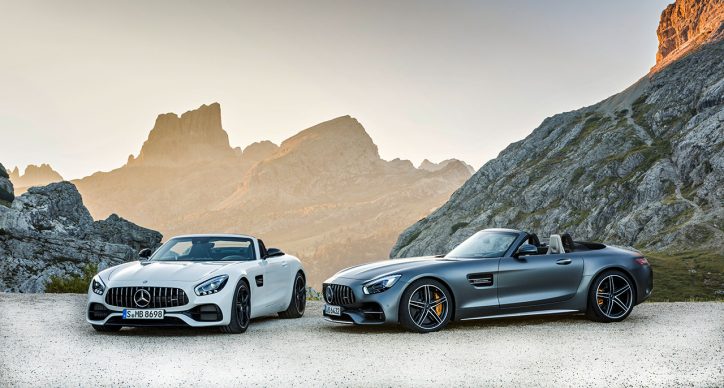 Mercedes-AMG just introduced its GT C Roadster, the hotter of the two canvas-top models from the German brand, at the 2016 Paris Auto Show.
The Mercedes-AMG GT C Roadster has a 4.0-liter V8 engine that produces 550 horsepower and 502 lb-ft of torque. It will borrow performance-related components from the top sports car, the AMG GT R, for it to run 60 mph in mere 3.7 seconds. This also means a reworked a dual-clutch transmission, rear-axle steering and an electronically-locking differential. These are the items that we cannot find on the Lite version.
On the exterior, this roadster will have wider fenders, meaning 2.25 inches more in width. As for the transmission, it will have an extra race transmission mode in addition to sport, sport-plus, comfort and individual. The last four are existent also in the milder of the two sports cars.
But the AMG GT C Roadster does not only deliver more power and torque, it also features a number of technical highlights we have only seen on the Mercedes-AMG GT R. These roadsters quickly went from being coupes to open-top sports cars.
They both have fabric roofs that open and close in just 11 seconds under the speed of 50 km/h. there are three soft-top colors that will suit the 11 exterior and 10 interior colors.
The 8-cylinder engine allows the roadster to respond immediately and to have a powerful acceleration in all rpm ranges. The seven-speed dual clutch transmission is programmed differently on the GT C Roadster that the sport transmission has a higher ratio while the seventh gear has a lower ratio.
This is scheduled for deliveries by mid-2017, just in time for some part of the summer season. There's no word on the price yet, but the $129,900 starting price seems to be just right.