Giancarlo Perlas
September 29, 2016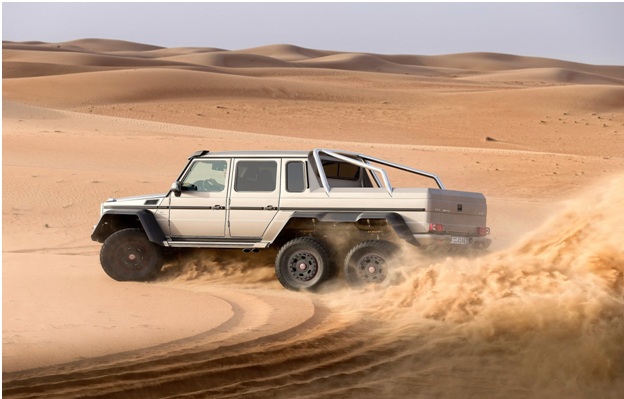 If you thought that the 2016 Mercedes G63 AMG 6X6 couldn't get any more beastly than you were so wrong. What's ridiculously cool about it isn't that it exists, but that it's a production vehicle. This means you can get one. Crazily enough, it is one of the most extravagant and effortlessly superior off-roader ever to be designed and built by mechanical engineers.
Admittedly, the G-class has not changed much since its introduction, which only adds to its appeal. Okay, I agree. The luxury SUV segment consists of a long list of modern choices. But let's face it, the Mercedes G63 AMG 6X6 remains the most coveted of four-wheelers on sale today. In fact, its equipment and performance are in their own league.
Features of the 2016 G63 AMG 6X6
This 8,000 lb. vehicle rides on 37 inch tires, stretches 19 feet in total length, and has six wheels. So, if you want people to get out of your way during a morning commute, or if you'd like to be prepared for a zombie apocalypse, the G63 AMG 6X6 is a likable choice.
We're not at the best part yet, the Mercedes G63 AMG 6X6 has 5 differentials which can be easily locked while you are on the move, portal axels, a reliable tire pressure control system that is very efficient, 400 kw of power and an off road reduction gear in the transfer case. To increase durability and clearance, AMG also developed a portal axel system that allows the wheels to mount significantly below the centerline of the axel.
Visually, the Mercedes G63 AMG 6X6 leaves no room for any doubt as to its true calling. Besides the few visual highlights I mentioned earlier, it uses elegant carbon fiber for the integrated LED light strips for the flared wheel arches and above the windscreen. The rear has a unique stainless roll-over bar.
While the outside of the Mercedes G63 AMG 6X6 is brutish, and big, the inside is an upgraded version of the already extremely upscale and opulent interior. This G63 also offers a design leather backdrop with individual topstitching, contrasting and an attractive diamond pattern. Its electrically adjustable seats and a special center console in the rear offer an inimitable class on the inside.
The 2016 Mercedes G63 AMG 6X6 has absolute functionality, robustness and exceptionally good off-road power. Additionally, it is uniquely designed with a comfortable and luxurious interior. This new model of the G-class series production ensures effortless balance and poise even in the off-road scene.
Driving through extreme terrains is delightful. However the tougher the going gets, it always finds a way through. It also features intelligent drive systems like the crosswind assist and the collision prevention assist plus.
Although the Mercedes G63 AMG 6X6 is said to be the second most expensive model, it is monstrous and admittedly most extreme SUV. It comes with some significant changes like the use of automatic speed transmission, which has replaced the old speed transmitter used on the military version.
The unique features of the Mercedes G63 AMG 6X6 include:
Assistance systems and Intelligent drive safety,
Dynamic select driving modes,
Hands free access tailgate system,
V8 biturbo from power specialists Mercedes AMG,
Agility control suspension,
A 2.0-liter 4-cylinder engine, &
Outer three dimensional radiator grille.
While this vehicle comes well equipped stock, there's guys like Newport Convertible Engineering that'll take things to a whole new level.  With complete customizable options, NCE can turn practically anything into a convertible or armored vehicle, which makes the Mercedes G63 AMG 6X6 the ultimate test subject.
Last but not least, the Mercedes G63 AMG 6X6 attains 0 to 60 miles per hour in just eight seconds. Even better, it has a fuel economy rating of 12 miles on the highway and 9 miles in the city and fords water up to 39-inches deep.
Evidently, the 2016 Mercedes G63 AMG 6X6 is built to meet all meteorological and topographical challenges.
How is the User Experience?
Although it's hard not to get noticed while driving your desert monster, it much more than just show. It is specially designed as you would expect any model from Mercedes-Benz. Even when the conditions get really tough, the Mercedes G63 AMG 6X6 overcomes all the challenges that different weather conditions and the natural world pose for its driver.
Conclusion
I could go on and on about the advantages of the Mercedes G63 AMG 6X6. However, one thing holds true: it is hugely capable in the right conditions. What I love about the Mercedes G63 AMG 6X6 is that despite its weight it accelerates with great vigor. For the moment, however we applaud Mercedes. Keep surprising us, Mercedes.