Ryan Joseph Ramos
August 28, 2016
In the first race back from the mid-season F1 break, Nico Rosberg won the 2016 Belgian Grand Prix, snapping a four-race skid that saw him relinquish the points lead to Mercedes teammate Lewis Hamilton.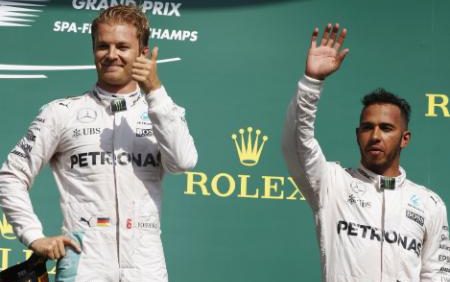 eanwhile, Hamilton took third place despite starting the race from the back row. He was able to make up places quick thanks to some early chaos. He managed to get his car to P13 before the incident that defined the race.
Thanks to a red-flag situation caused by Kevin Magnussen driving his Renault into a wall, the red flag was deployed and the race was even suspended for a short time right after in order to repair the severly damaged wall.
This was after Hamilton was slapped with a 55-place grid penalty thanks to a wide variety of engine changes. What was originally a 30-place penalty ballooned after more component swaps, but it was meaningless anyway. He was already condemned to the back row at that point.
With the win, Rosberg managed to cut into Hamilton's lead. The Brit, however, could have finished much worse. We're sure he's very happy to have finished in the top 3.
Red Bull's Daniel Ricciardo took home the second-place trophy. Meanwhile, Fernando Alonso,  another guy who joined Hamilton in the back row secured seventh place for McLaren.