Giancarlo Perlas
March 24, 2016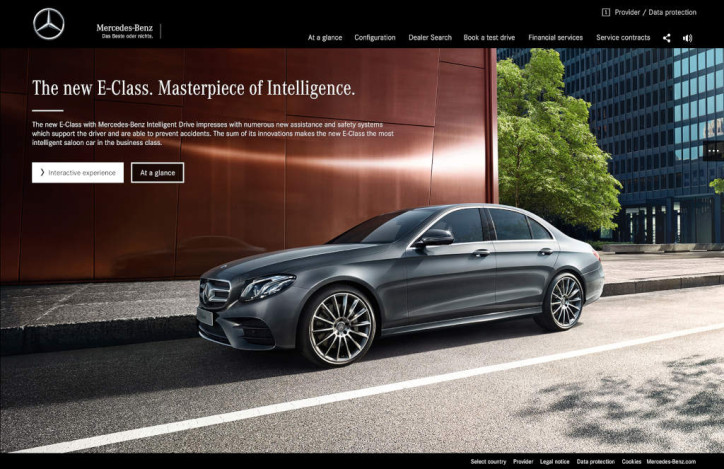 The new Mercedes-Benz E-Class is finally arriving in showrooms. According to the Global Media Site of Daimler, the 10th generation of the business saloon will be coming on April 9.
Mercedes-Benz uses the slogan "The E-Class. Masterpiece of Intelligence." to promote the new car. Then the company also has a 360° campaign to hype the intelligent features of the auto as well as its safety and semi-autonomous driving elements.
Partnership with Amazon
Mercedes partnered with Amazon too in order to reach out to more potential customers. Using the capabilities of the world's largest online trader, customers can now reserve a test drive session just by clicking the "Book Test Drive" button in the online seller's website.
In addition, Amazon provides a link to the interactive special dedicated to the E-Class called "The mind behind." It uses a 3D view to provide customers a better experience with the E-Class. Together with it are photos, videos and texts detailing the key features of the auto.
Unfortunately, only the Amazon websites in Germany, France, Great Britain and Japan are covered by the cooperative agreement forged with Mercedes.
Other Promotions
Moreover, Mercedes made three TV spots for the promotion of the upcoming E-Class. The ads highlight the innovations present in the car that puts it ahead of its time.
The first is called "The Future" which compares how the new E-Class is paving way for the realization of the futuristic Mercedes-Benz F015. The second is "The Journey" which takes the viewer 30 years in the past up to the development of the upcoming car. Last is "Intuition" that focuses on the safety and intelligent features of the mid-range luxury car of Mercedes.