Ryan Joseph Ramos
September 27, 2015
Lewis Hamilton won the 2015 Japanese Grand Prix comfortably ahead of his Mercedes AMG Petronas F1 teammate Nico Rosberg, giving the team a much-needed one-two finish after the disaster in Singapore's night race.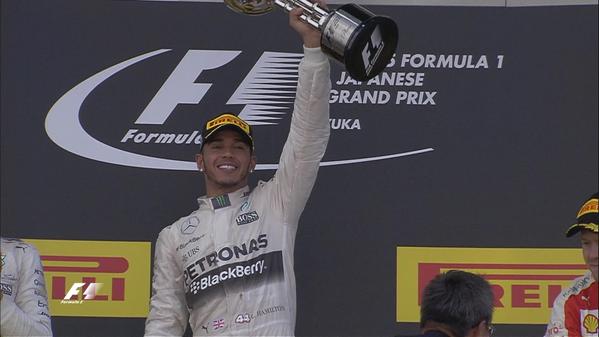 Hamilton has now tied Ayrton Senna for with 41 career wins; they are tied for fourth place on the all-time list led by Michael Schumacher (91 career wins). Alain Prost is next at 51, while Ferrari's Sebastian Vettel is third with 42.
"To come here, where I used to love watching Ayrton drive, and match his career wins, is amazing for me," said an ecstatic Hamilton. With Vettel just one win away as well, there's a good chance Hamilton can match–and even go better than–Vettel's total before this F1 season ends.
Singapore winner Vettel took the third podium spot, nearly two seconds after Rosberg crossed the chequered flag. With the result, Rosberg fends off Vettel's effort to take second place in the season standings, although it's clear that the Ferrari cars are getting closer.
Rosberg admitted he had a worse start than his teammate, but felt good about being able to battle back into second place.
The other Ferrari driven by Kimi Raikkonen finished fourth. Williams' Valtteri Bottas took fifth, followed by Force India's Nico Hulkenberg in sixth, the two Lotuses of Romain Grosjean and Pastor Maldonado in seventh and eighth respectively, then the Renaults of Max Verstappen and Carlos Sainz in ninth and tenth respectively.
At the opposite end of the race standings, Felipe Nasr got classified as a finisher after completing over 90 percent of the race distance. That means the 2015 Japanese GP becomes the fifth race in the entirety of F1 history to not have a single retirement.