Ryan Joseph Ramos
October 5, 2014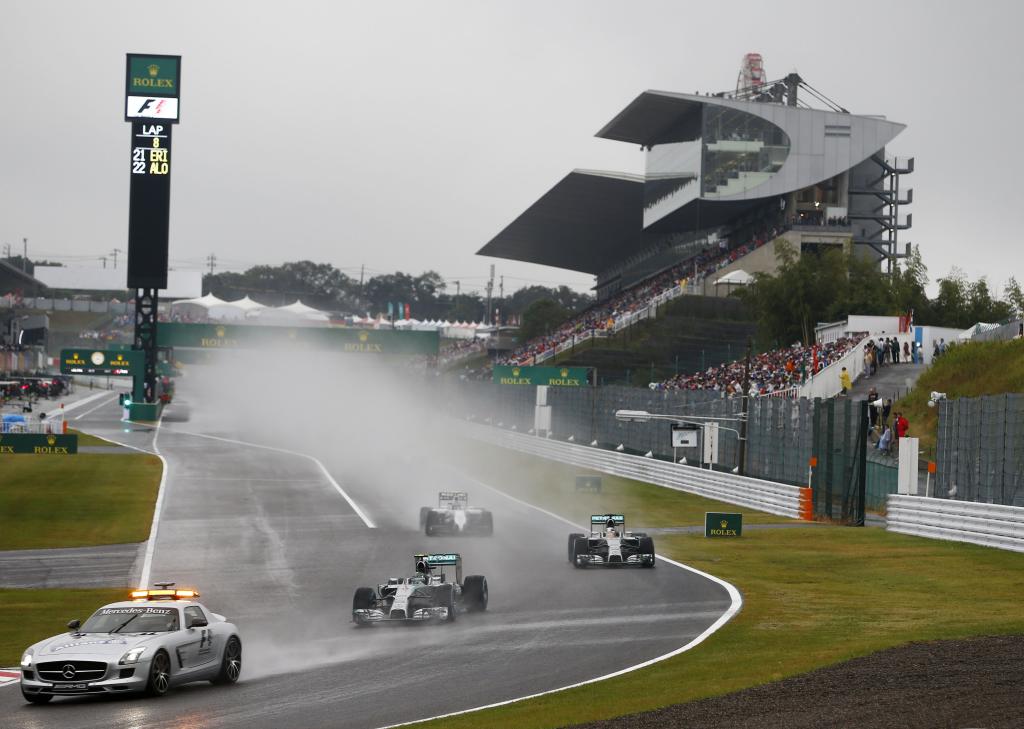 Mercedes AMG Petronas' Lewis Hamilton took the victory as the 2014 Japanese Grand Prix ended prematurely, allowing the Brit to extend his lead over teammate Nico Rosberg, who started on pole but had to settle for second place. The race had to be ended early and the results backdated after a serious crash involving Jules Bianchi of Marussia and a JCB recovery vehicle, which was attending to an incident from the previous lap.
"My thoughts are with my colleague," Rosberg said. "They have given us some information and it seems very, very serious."
Typhoon Phanfone made its mark on the race early on, with standing water accumulating on the track and water splashing in great plumes from the cars as they made their way around the track behind the safety car. Lack of visibility was also a big problem, and contributed to many mishaps on the track.
In lap 42 out of 53, Adrian Sutil's Sauber car aquaplaned off turn 7 as the rain continued to get heavier. A few laps after that, Bianchi went off the same spot and hit a recovery crane, reports say, although Sutil said "no comment" on that report when he was asked. Anyway, at that point, the ambulance came on and the result declared not long after the red flag after lap 46. Results were backdated to the positions in lap 44.
A minimum of 40 laps completed by the leading car (which is 75% of the race) was necessary for the full number of points to be awarded.
At the 44-lap mark, Lewis Hamilton was still comfortably ahead of Rosberg by 9.180 seconds. Sebastian Vettel finished with the Mercedes drivers on the podium, and his teammate Daniel Ricciardo finished in fourth place. Jenson Button finished fifth, Valtteri Bottas sixth, Felipe Massa seventh, Nico Hulkenberg eighth, Jean-Eric Vergne ninth, and Sergio Perez tenth.
It was rather unfortunate that a decision to move up the schedule of the race could not be reached; it could have allowed the race to be completed fully at 53 laps, and many of the incidents could likely have been prevented.
Anyway, with the result, Hamilton extends his lead over Rosberg in the drivers' championship race. Hamilton now has 266 points to Rosberg's 256.
Jules Bianchi was taken to the hospital. All our prayers go out to him and we hope he recovers soon.