Peter Parcon
September 6, 2014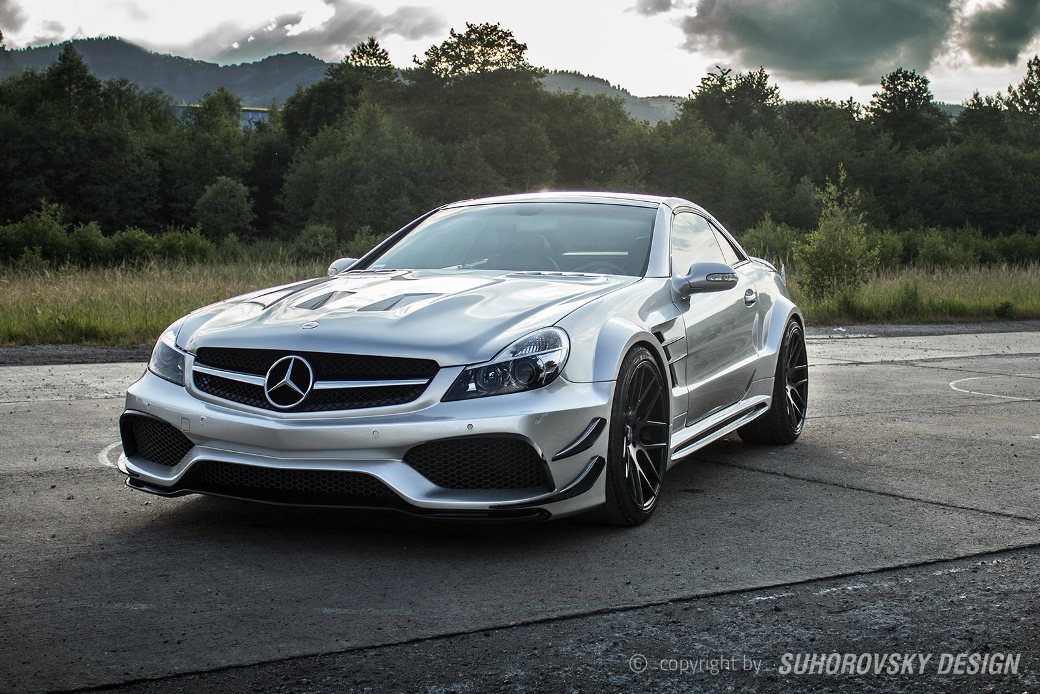 The Mercedes-Benz SL has received numerous aftermarket body kits from a host of car-tuning companies in the past. These aftermarket body kits ranged from simple to extravagant modifications that enhanced the appearance and performance of the luxury vehicle.
One of the latest premium tuning companies to provide an aftermarket body kit for the Mercedes-Benz SL is Suhorovsky Design, according to a report from gtspirit.com. The Polish tuning company enhanced the design of the SL while boosting its aura.
The aftermarket body kit was dubbed as the SR66.2 by Suhorovsky Design. It is evocative of the SL65 AMG Black Series as it added a vented bonnet and new front fascia featuring a new bumper to the luxury vehicle. The large air intakes in front ensure suitable cooling along the front of the luxury supercar.
The roadster was provided design details typically displayed by supercars. Among the dominant component of the Mercedes-Benz SR66.2 are the wheel arches, which are complemented by side skirt components along with front fender grilles. The side skirts connect the wings into the rear widening of the SR66.2.
The Suhorovsky Design-tuned Mercedes-Benz SL also features a lower bumper housing two pairs of trapezoidal AMG tailpipes. It also features a large-sized diffuser on its brand new rear bumper. Even though the trunk spoiler on the tuned luxury vehicle from Mercedes-Benz is quite prominent, some luxury vehicle enthusiasts may want to replace it with a differently-designed spoiler.
The Mercedes-Benz SR66.2 also features a set of multi-spoke rims with a concave profile from Rohana Wheels. A set of glossy-black Yokohama rubber completes the appearance of the tuned luxury vehicle from Mercedes-Benz.
The aftermarket body kit from Suhorovsky Design is available for pre-facelift and post-facelift versions of the luxury vehicle. This allows owners of any model from 2001 to 2008 to use the body kit on their beloved luxury vehicle. The price for the aftermarket body kit from Suhorovsky Design for the Mercedes-Benz SL is available upon request.