Ryan Joseph Ramos
April 6, 2014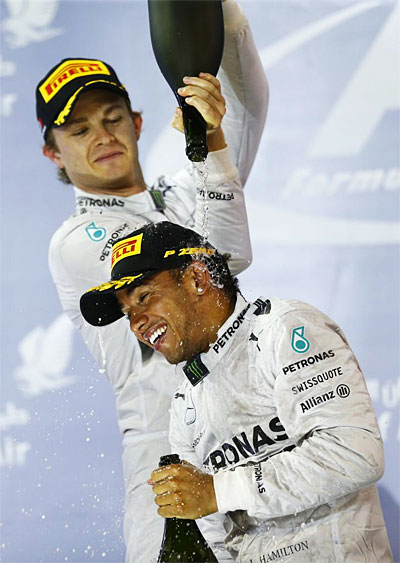 One second was the difference between Lewis Hamilton and Nico Rosberg in a duel of the two Mercedes AMG Petronas F1 drivers at the 2014 Bahrain Grand Prix. It looks increasingly likely that we will see more of this head-to-head battle between the two teammates, but Mercedes has to be happy with the team's second one-two finish in as many races.
The win catapulted Mercedes into a 67-point lead at the top of the constructor's championship, with Force India second and McLaren third. Sergio Perez took the third podium spot, finishing 23 seconds behind Rosberg.
"I was on a real knife edge at the end," said Hamilton after the race. This marked his first Bahrain GP win, but more importantly, it moved him into a tie with Mercedes-Benz motorsport legend Juan Manuel Fangio with 24 career wins in F1. That's good for tenth place on the all-time list.
Rosberg, who qualified in pole position to start the race, had some choice words as well, not the least of which were that he "strongly disliked" having to finish second to his teammate. However, he added that it was easily the most exciting race so far in his F1 career. He still paces the driver's standings with 61 points after four races, with Hamilton second at 50 points, Nico Hulkenberg third at 28 points, Fernando Alonso fourth, Jenson Button fifth, and defending champion Sebastian Vettel way back at sixth.
Even with this kind of competition between the drivers, Mercedes is in a pretty solid position right now. See, all this works for the team: as Hamilton rides the momentum of his second-straight victory, Rosberg will be that much more driven to get the upper hand the next time a battle arises.
This kind of competition also works for the sport in general. While Mercedes is, at the moment, leaps and bounds ahead of the rest of the field, it's not like  with Red Bull in the past three years where it was clearly Vettel with the upper hand. Barring technical issues, it's highly probable that we will see a dogfight between Rosberg and Hamilton many more times this season.
This has been seen as a positive by pundits, making races more exciting. Fans commenting online also seemed to provide near-unanimous praise for the event.
Check out some of the pics below for more snaps of the Formula One action at the Bahrain Grand Prix. (Photos courtesy of Daimler.)