Ryan Joseph Ramos
April 21, 2014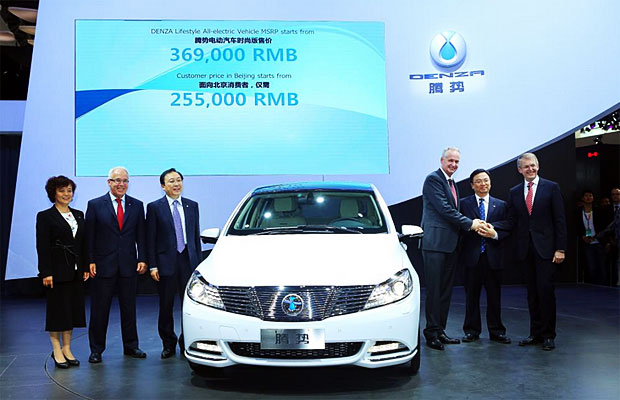 The highly anticipated product of the Daimler-BYD joint venture finally got its world premiere. At the Auto China 2014 event, BYD Daimler New Technology showcased the production model of its pet project, an electric vehicle developed specifically for the Chinese market.
BDNT expects the first unit of the DENZA automobile to be available by September 2014. The car is priced at RMB369,000, or around $59,250. Of course, BDNT aims to make the deal more enticing for those on the fence by throwing in considerable subsidies that reach a total of nearly RMB120,000, which is going to be shaved off the price of the vehicle straight away.
BDNT, established in 2010, represents a 50:50 research and development technology joint venture between the two companies, combining key attributes such as Daimler's safety tech expertise and the topnotch battery know-how of BYD.
Powered by an 86 kW electric engine that goes for as fast as 150 kph, and with up to 300 kilometers of driving range, prospective buyers can expect total convenience from the vehicle. Day-to-day use should be no problem, and the emission-free setup also minimizes the driver's environmental footprint.
The car will be available in two variants. First is the 'Lifestyle' variant that comes with 18-inch alloy wheels, an 8-inch multimedia touchscreen, and genuine leather seats. The 'Executive' version, on the other hand, sports Xenon lights plus an adaptive front lighting system, a user-friendly navigation system, and a superb Harman-Kardon sound system.
China is an important market for just about any automaker, and DENZA is one of the keys to Daimler making further inroads into the largest automotive market in the world. Daimler board member for R&D Prof. Thomas Weber described the vehicle as "a key pillar" that should considerably affect the company's EV strategy in the country.
See more images below.