Ryan Joseph Ramos
March 31, 2014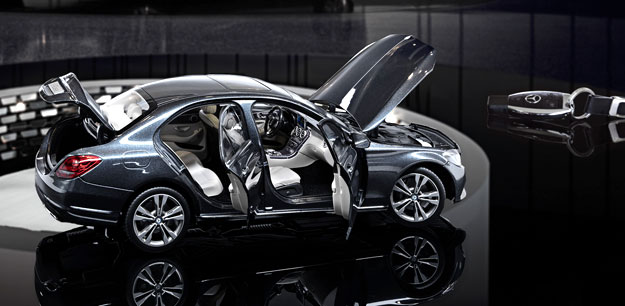 Fans of collectible miniature car models can now add the new Mercedes-Benz C-Class to their collections, with all-new hand-assembled 1:18, 1:43, and 1:87 scale die-cast models now available from select Mercedes-Benz dealerships in Germany and, soon, in other markets.
With the C-Class being showcased in showrooms across Germany together with the GLA-Class, there were more than 300,000 visitors in just March's second weekend, with some 6,000 test drives being conducted. So now, if you've got a taste of the C-Class but aren't really in the market for a new drive, then you might want to content yourself with a collectible car model.
Once again, Mercedes-Benz turns to Norev, a specialist in making miniature model cars, to assemble the 1:18 and 1:43 scale variants. Herpa, meanwhile, was tasked with making the 1:87 H0 scale.
The 1:18 die-cast zinc scale model is a C-Class Saloon that comes with doors and bonnets that can all be opened, while there is high-quality printing to simulate the top-of-the-line interior. Over 130 separate parts went into each model, and details like the glass sliding sunroof and LED ILS headlamps are all present. Its SRP is €74.90, and prospective buyers can opt for obsidian black or diamond white metallic BRIGHT colors.
The 1:43 scale C-Class is also made of die-cast zinc and comes with an SRP of €29.90. Some 55 separate parts are assembled to make this 11cm model and is available in the same colors as the 1:18 model.
As for Herpa's 1:87 scale variant, the 5.4 cm model of the C-Class Saloon, is made up of 25 individual parts, hand-assembled, and with details also intact. The color choices are iridium silver and polar white, available with the AVANTGARDE equipment line. The C-Class EXCLUSIVE version features color options of palladium silver or black. SRP is €15.90 for these babies.
Check out some images below: