Ryan Joseph Ramos
August 2, 2013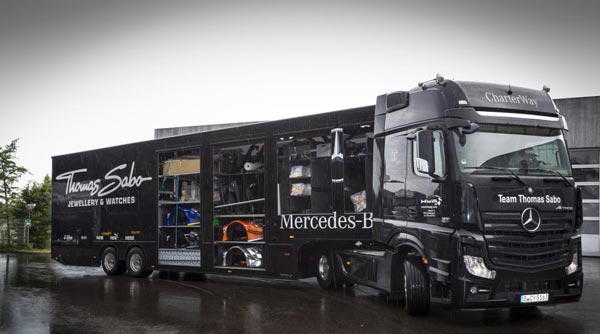 With the DTM headed to Russia for the touring car championship's inaugural race at the Moscow Raceway, the Mercedes-Benz team will be relying on 6 units of the new Mercedes-Benz Actros to shuttle the team's equipment for over 2,600 kilometers in a journey that goes from the team's German HQ all the way to Russia, passing through Poland, Lithuania, and Latvia in the process.
One of the truck drivers for the team, Charl Lohrmann, noted that the Actros was just the perfect truck for this kind of transport job. The safety and reliability of the truck are among the main advantages, not including the sheer ability to transport such valuable cargo as the Mercedes AMG cars of the DTM team.
Accoding to Mercedes-Benz, it takes a mere hour to load and unload the trucks, aided by logistics specialists. Cargo includes vehicles,
Aside from topnotch comfort, precise handling, efficient fuel consumption, and reliability, the new Actros also comes with various driver assistance systems, including Proximity Control Assist and Lane Keeping Assist.
Basically, what the DTM team uses to transport its equipment are Mercedes-Benz CharterWay tractor variants.
If you want to know more about the upcoming DTM race in Russia, you can check out our race preview.