Ryan Joseph Ramos
July 11, 2013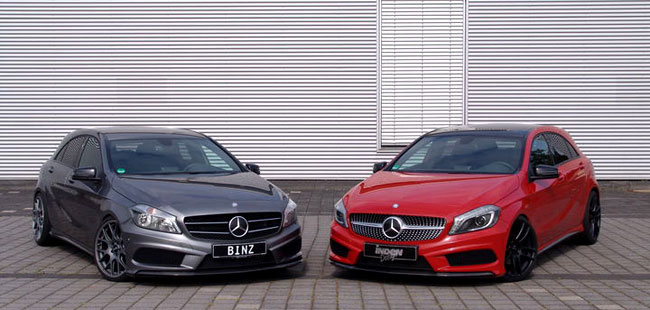 Binz Sport and Inden Design have worked together on a couple of modified Mercedes-Benz A-Class (W 176) units, with the custom cars set to be shown in Hattingen at an upcoming Mercedes-Benz meet.
The A-Class models in question have been given some 'small but effective' design modifications. There's a carbon-fiber front spoiler lip, carbon side sills, and a carbon-fiber rear diffuser with cutouts for the quad exhausts that are the same as the ones on the C 63 AMG Black Series. There will be an option for the W 212 E-Class AMG tailpipes if the Black Series variant isn't your thing.
Red A-Class springs are used for the suspension with anthracite coilovers, and the units have also been lowered by 35mm. The grey unit comes with BBS CH-R 19-inch alloy wheels, while the other has Barracuda Shoxx matte black 19-inchers.
There have also been some confirmation on future collaborations between Binz Sport and Inden Design.
Check out some images of the end product below:
Photo Credit: Inden Design